When it comes to stylish but budget-friendly furniture, no other name has greater recall than IKEA. This Sweden-rooted multinational juggernaut has more than 450 stores in 60 countries. Many of my friends don't pass up an opportunity to shop if there is an IKEA store in the city they're visiting. I also know a couple of interior-stylist-friends who travel abroad for the sole purpose of shopping here. But now, they may no longer need to because IKEA has finally arrived in the Philippines.
And they didn't come here to play. Covering 65,000 square meters, what IKEA built in Pasay City's Mall of Asia Complex is their largest store in the world. It opened its doors to the public last November 25.
But because we are still dealing with the pandemic, IKEA implements health and safety protocols. In this article, we'll share with you what you need to do, how to reserve a slot, and how to shop at IKEA Philippines – Pasay.
---
WHAT'S COVERED IN THIS GUIDE?
To make sure that health protocols are observed and control the foot traffic, IKEA enforces a NO BOOKING, NO SHOPPING policy and limits the number of visitors allowed per day. This means that customers are REQUIRED to make a booking in advance before they visit the store. Here's how to do that: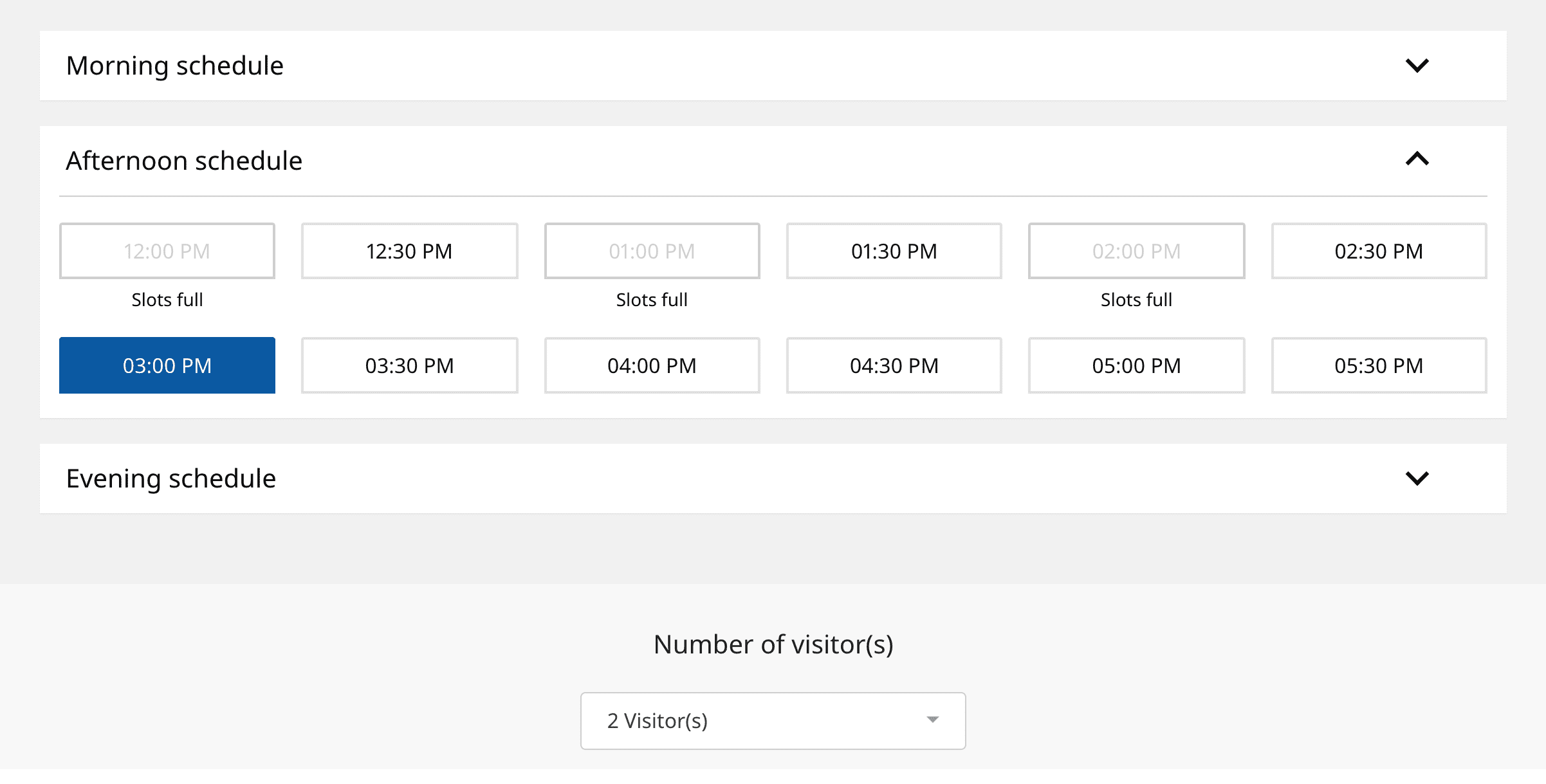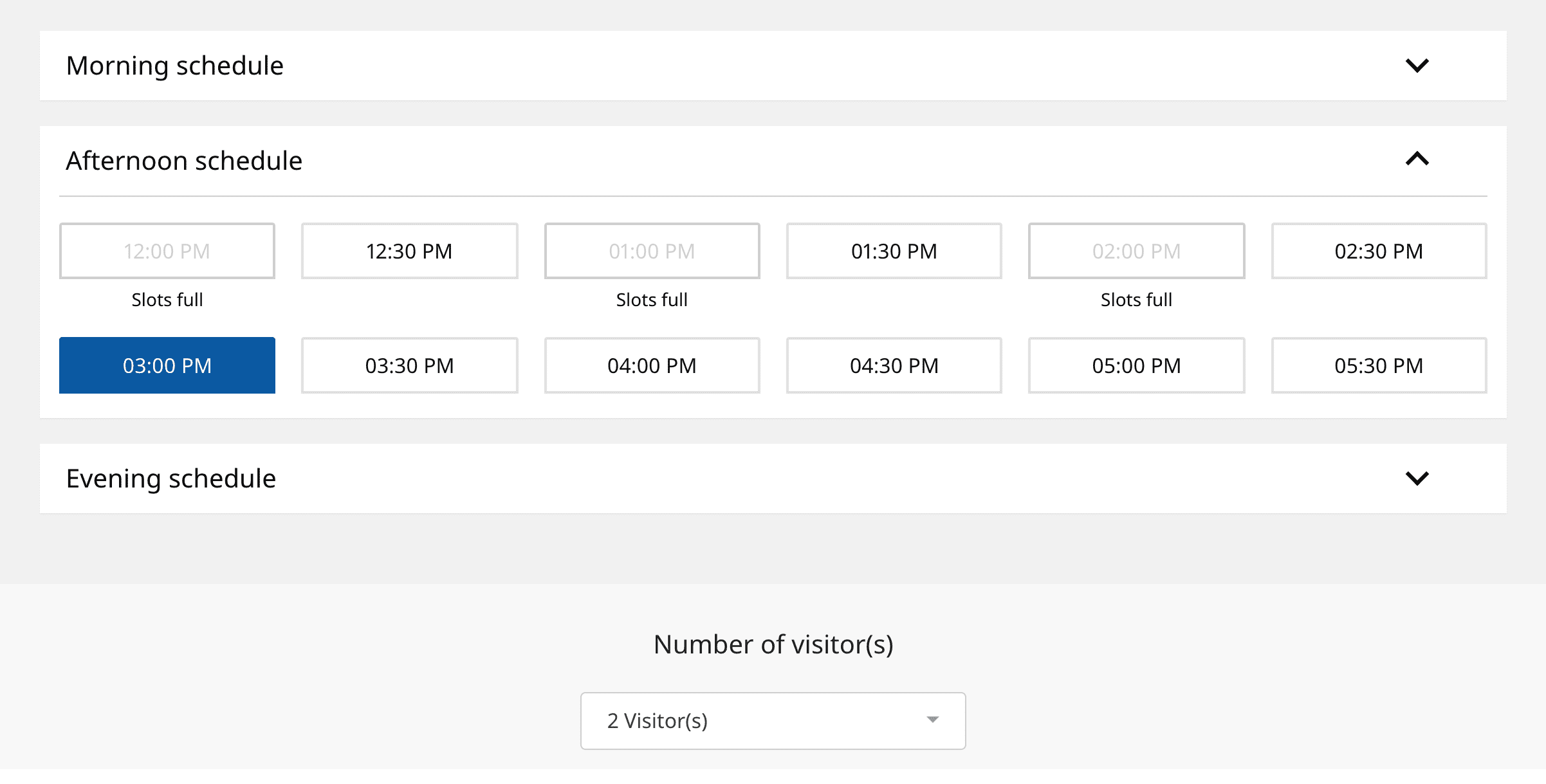 Go to IKEA's booking page. Then, click the BOOK A SLOT NOW button.
Pick a date. On the drop down menu, choose an available date. If the date you want is not clickable or grayed out, it means that date is fully booked already so choose another.
Choose a time slot. There are morning, afternoon, and evening schedules. The earliest slot is 10:00 am and the latest is 8:30 pm. Pick a schedule that is most convenient for you. If a time slot is already full, it will be indicated and you won't be able to select it.
Select the number of visitors. Each booking allows a maximum of 3 VISITORS ONLY. Once you're done, click the BOOK YOUR VISIT HERE button.
Review booking details. A summary of your booking details will be shown. If everything is in order, hit CLICK TO BOOK.
Enter your mobile number and OTP. To proceed with your booking, enter your mobile number where you will receive a verification code. Then, click the REQUEST OTP button. Type in the OTP you received through SMS and click VERIFY.
Enter your full name and email address. Then, click SIGN UP.
Save your QR code. After you register, you will be provided a QR code and your booking details. You may save this by simply taking a screenshot. A link where you can download your QR code will also be sent to you via SMS, Viber and/or email.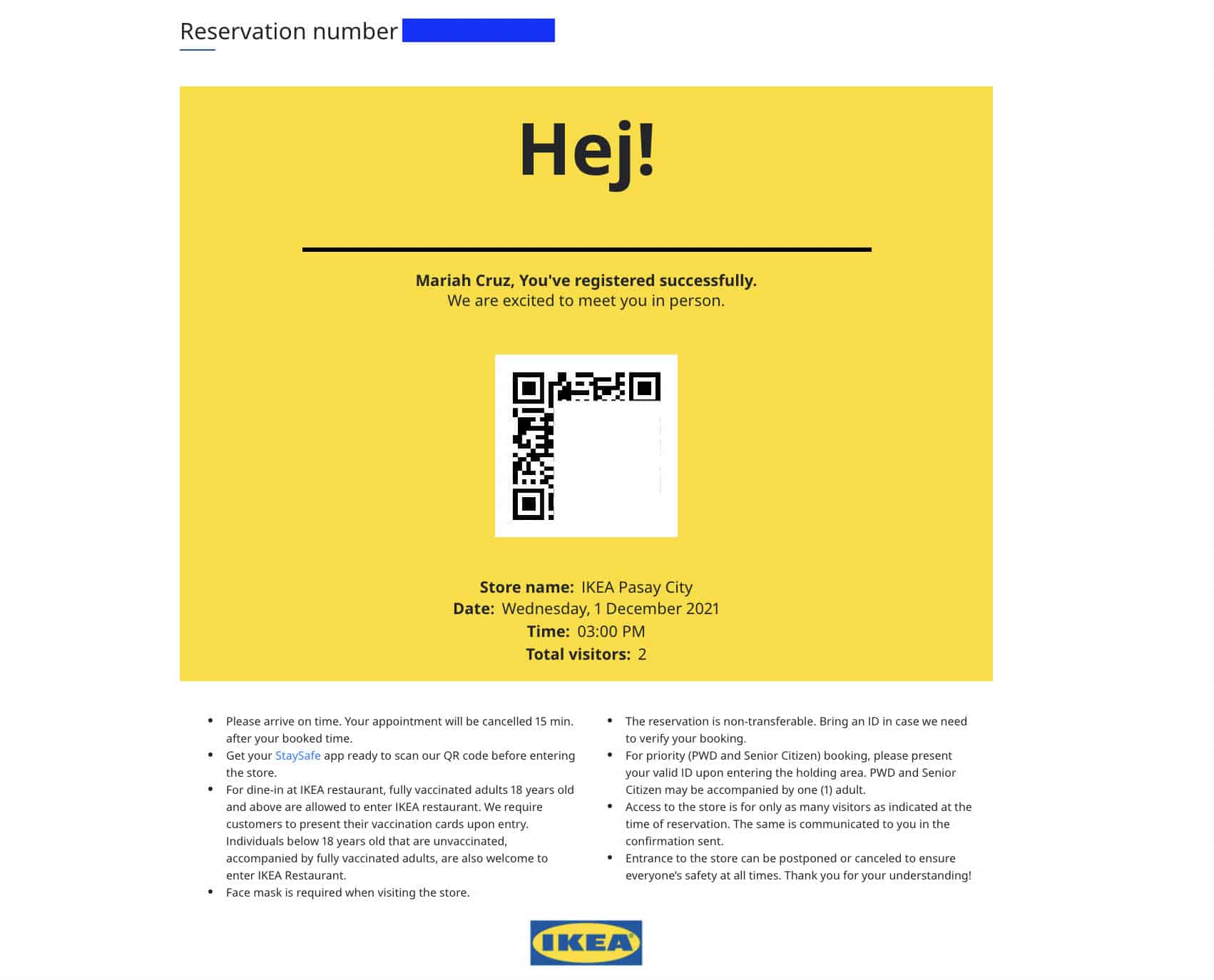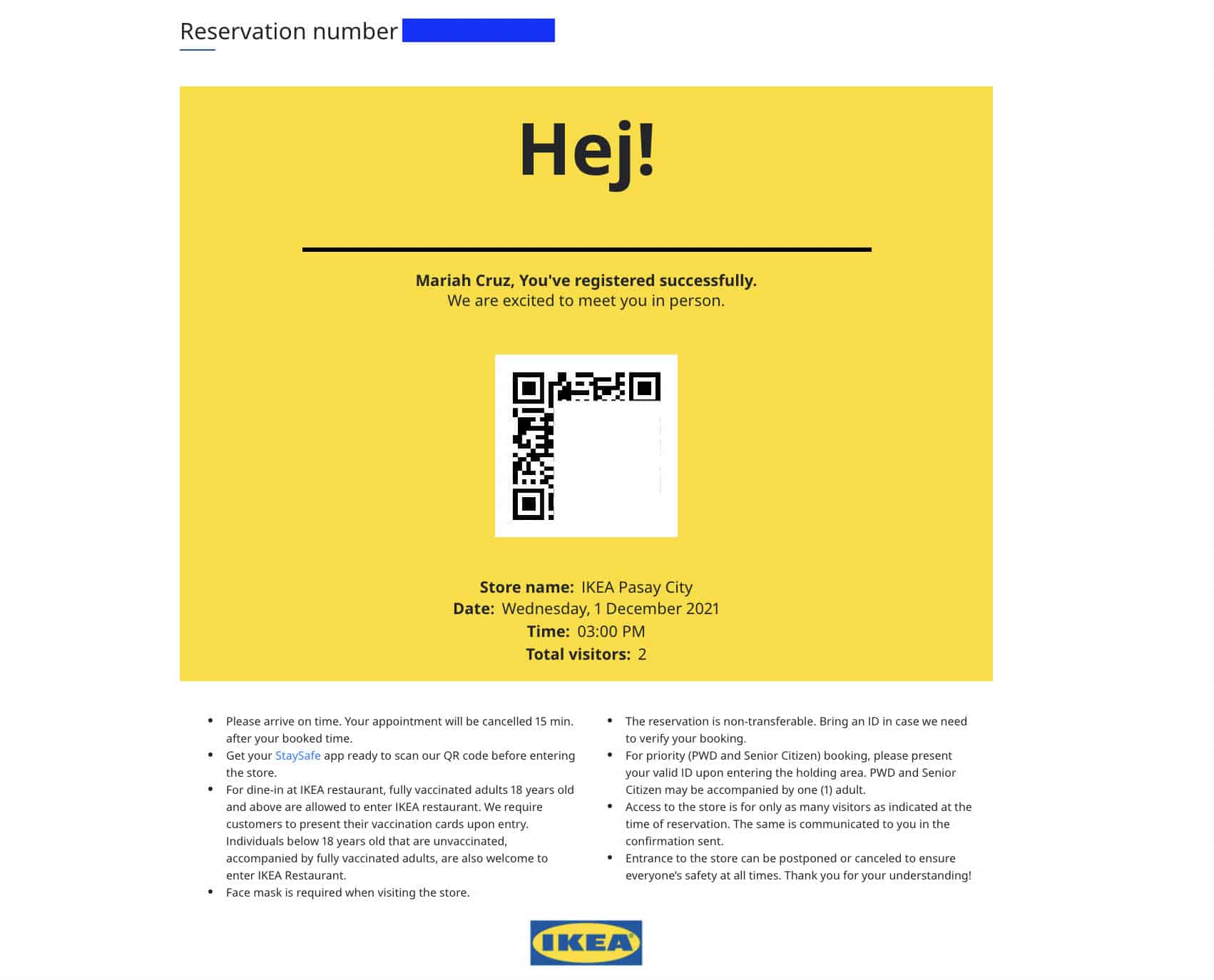 That's it! You have successfully booked a shopping schedule at IKEA.
Before you go, here are a few reminders:
Arrive on time. Your booking may be canceled 15 minutes after your booked schedule.
Booking is non-transferable. Make sure to bring an ID in case your booking needs to be verified.
Download the StaySafe app. They may need to check this before you enter the store. (I say "may" because they didn't during our visit).
If you're dining at IKEA Restaurant, bring your vaccination card. Dine in at Ikea restaurant are for fully vaccinated adults and unvaccinated minors accompanied by fully vaccinated adults only.
---
IKEA Pasay City is located within the Mall of Asia Complex, just beside the SM Mall of Asia Department Store and in between the MOA Arena and SMX Convention Center. All these buildings are interconnected through bridge ways. The Mall of Asia Complex is located on the southern end of EDSA.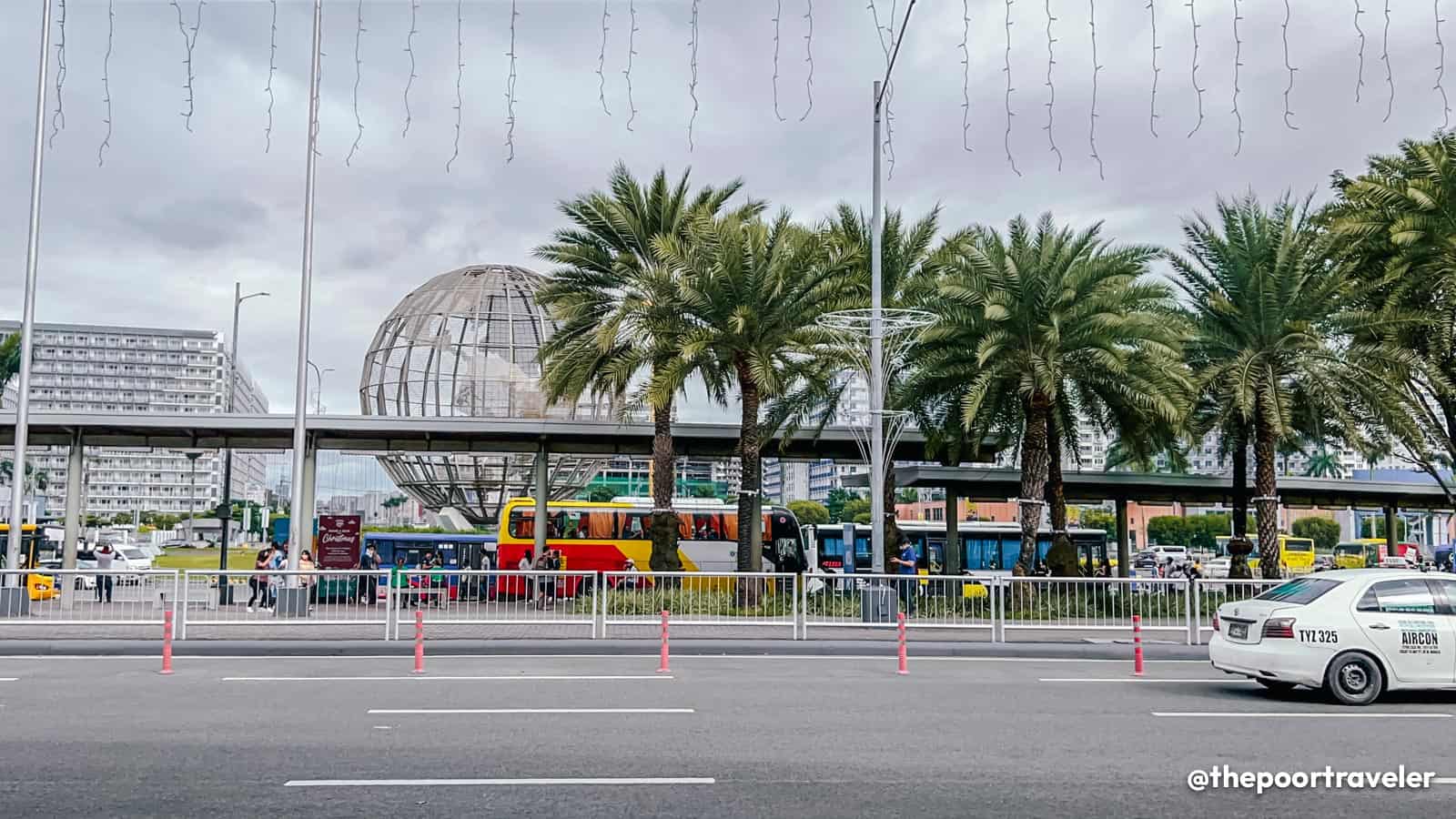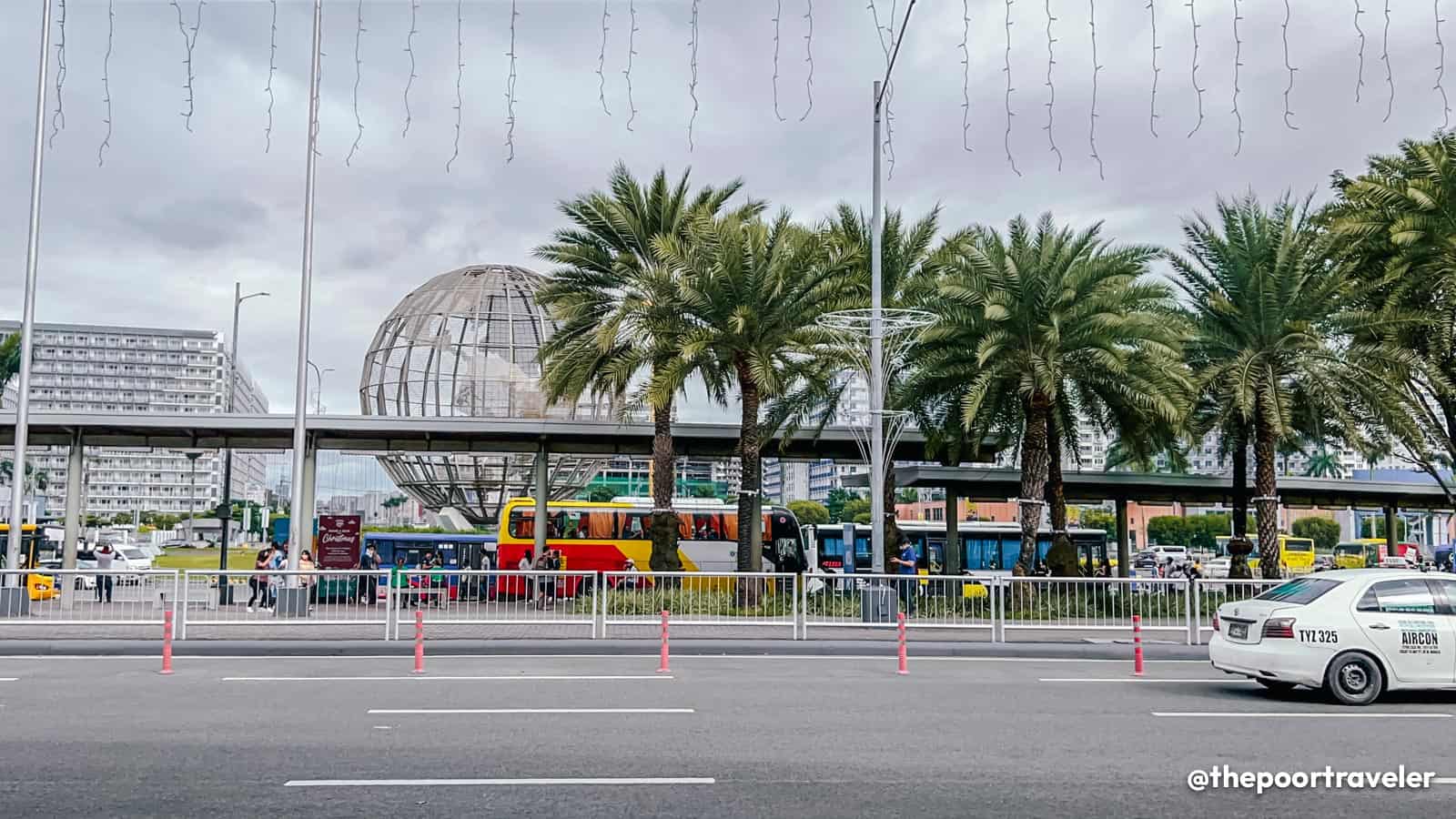 If you're taking public transportation, here's how to get to IKEA.
Make your way to any MRT Station.
Take the MRT to Taft Station. Alight there.
Board a jeepney or bus bound for MOA.
Get off at the unloading spot, just in front of the mall, near the MOA Globe.
Enter the mall, take the escalator up to the second floor. Head left and walk all the way through the outdoor area to the entrance to the MOA Square.
You'll find entrance to IKEA inside the MOA Square. You can't miss it because of its large blue and yellow theme.
If you drive a car, you may find parking spots at the IKEA building itself or at nearby buildings, which are all interconnected. This area is used to holding concerts and big events so parking shouldn't be an issue.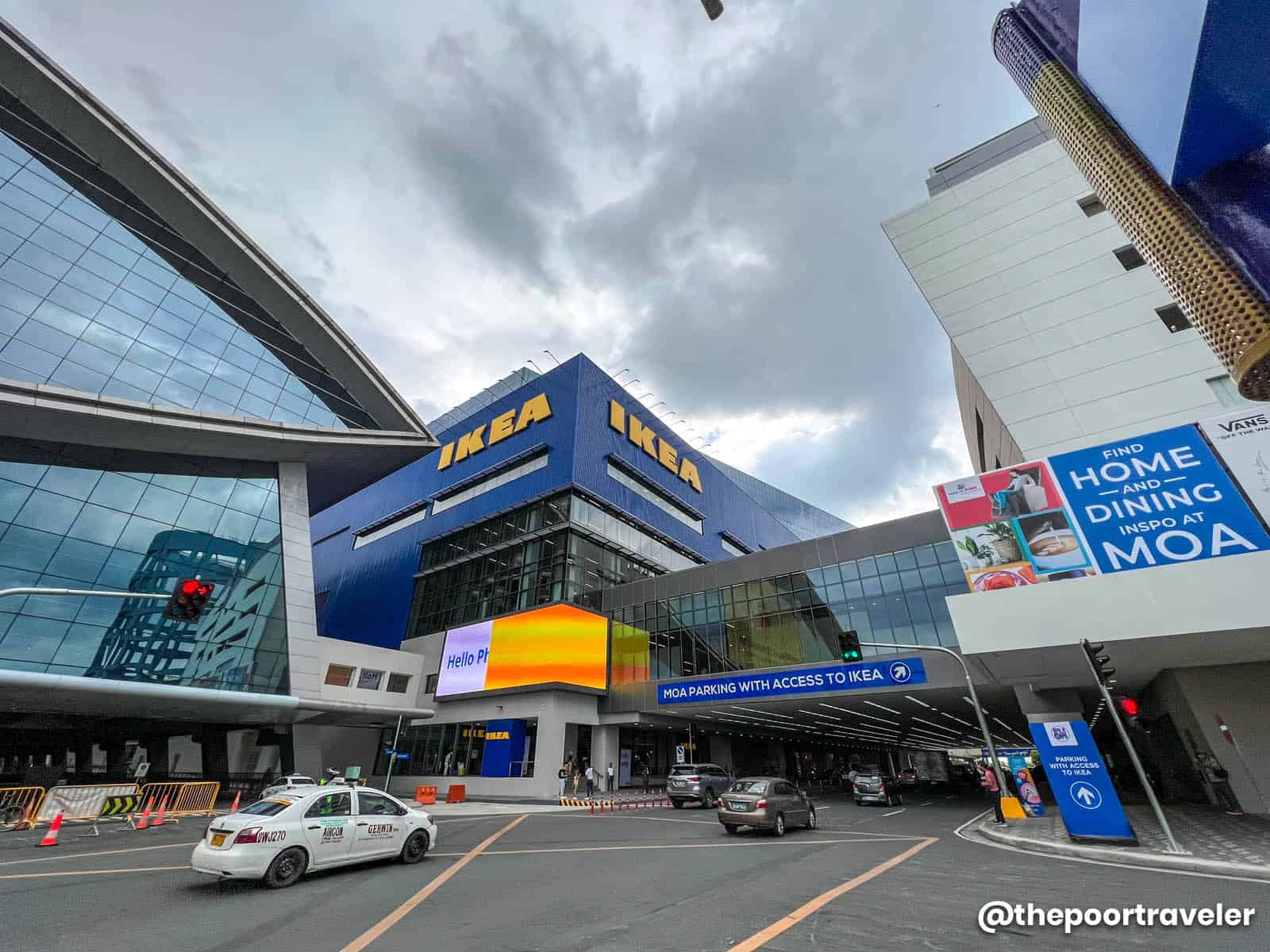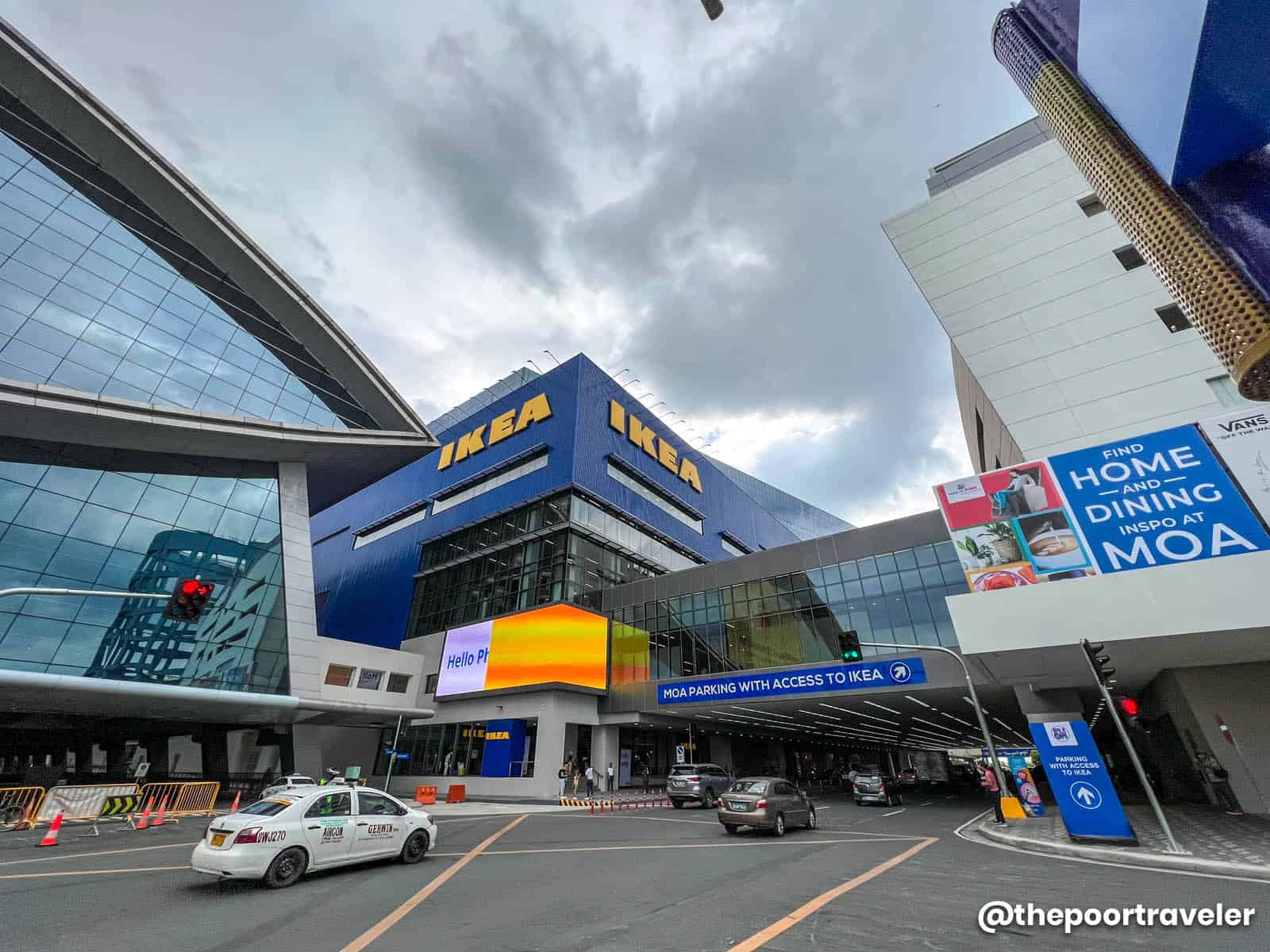 ---
Even before you could see the entrance, you'll probably notice first the long line that snakes across the area. Don't feel too discouraged by it. Yes, it's long, but based on our experience, it moved pretty quickly because the whole system was organized and efficient (at least during our visit).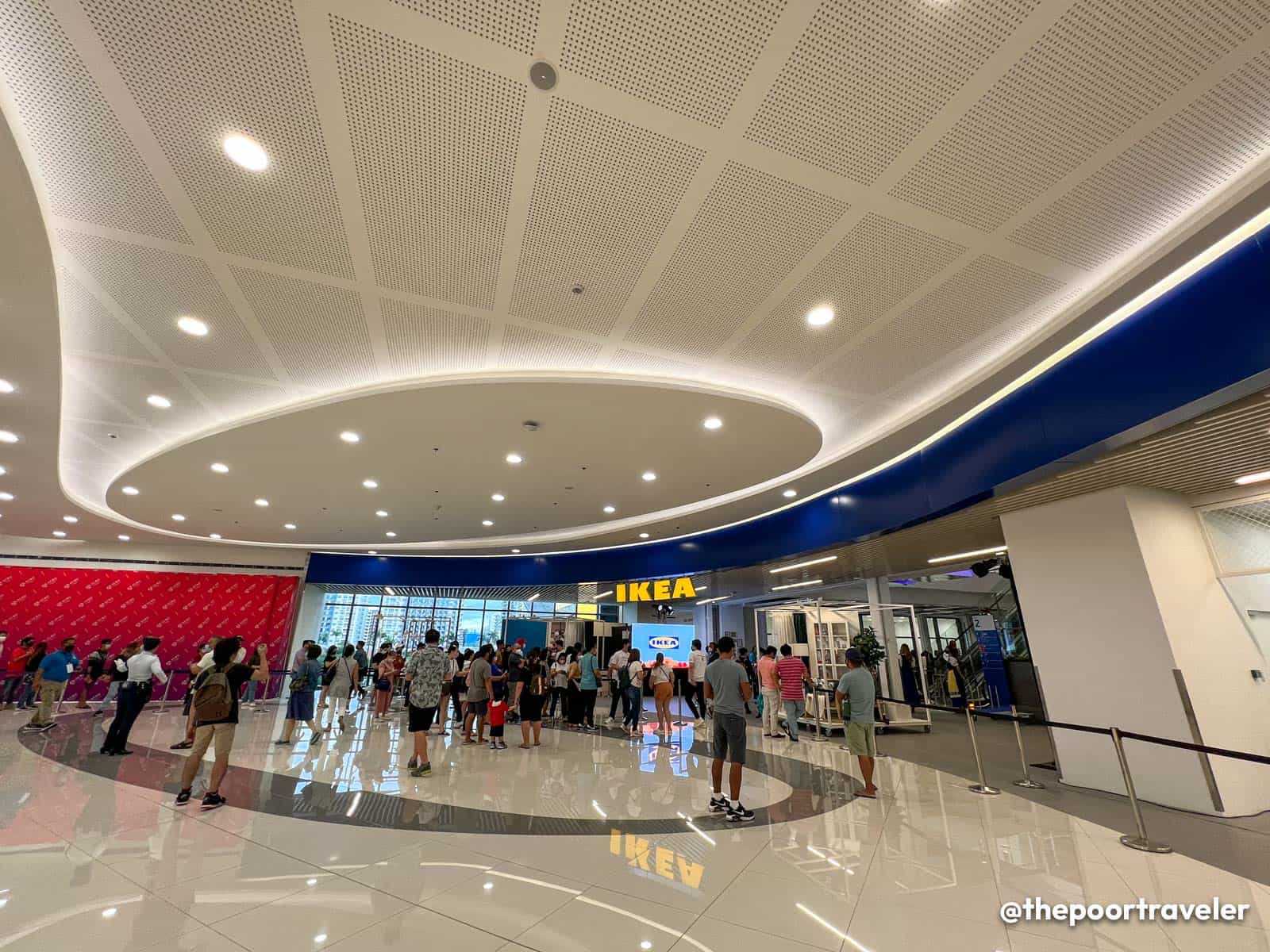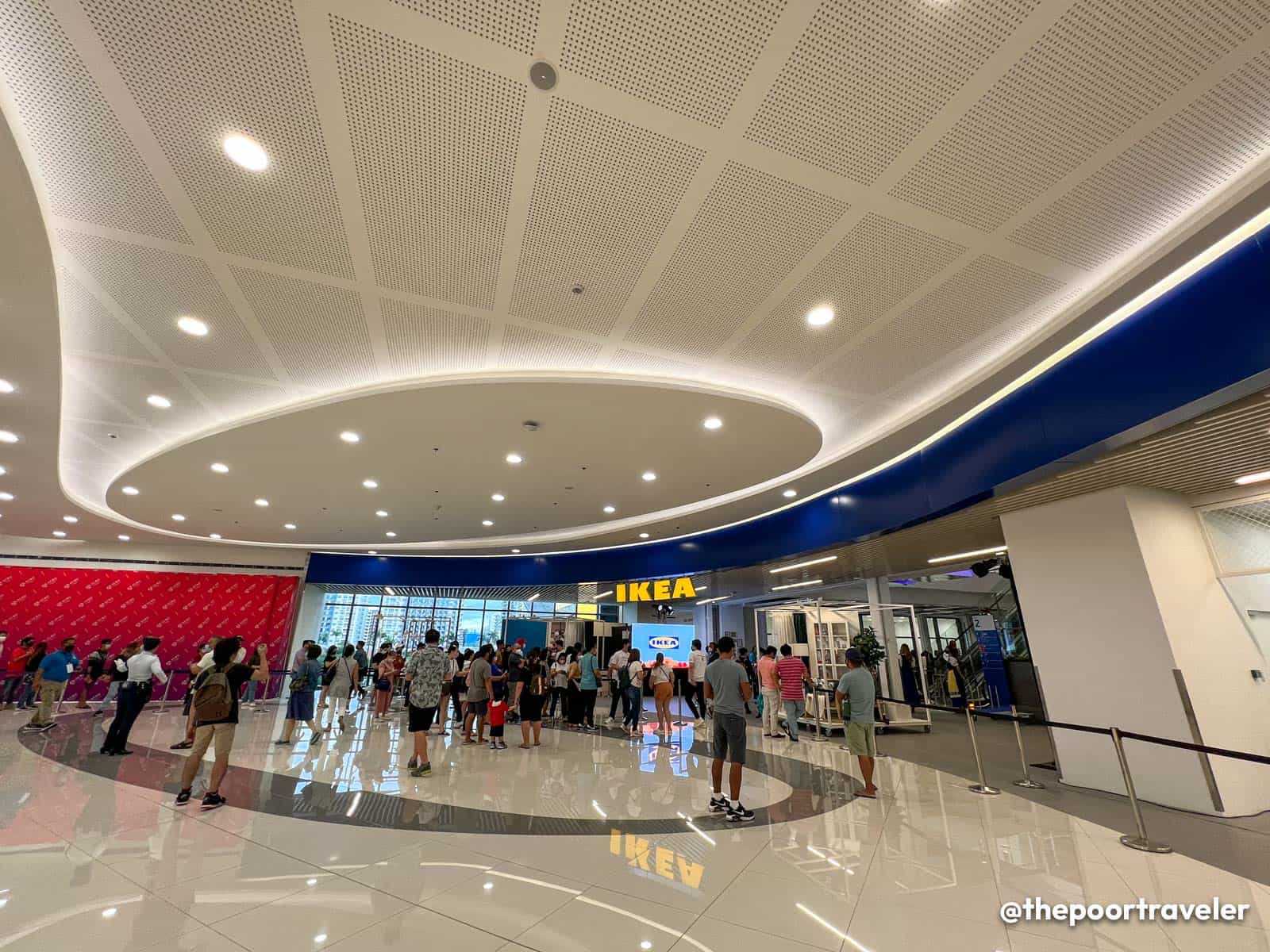 By the way: Arrive on time. IKEA may cancel your booking if you don't show up 15 minutes before your schedule. So to be safe, just be punctual.
Our schedule was 4:30 pm but we arrived at around 4 o'clock. When I asked the staff, I was told I could already fall in line, so we did. By 4:10pm, we were already near the end of the line. But since we booked 4:30pm, we had to wait until then.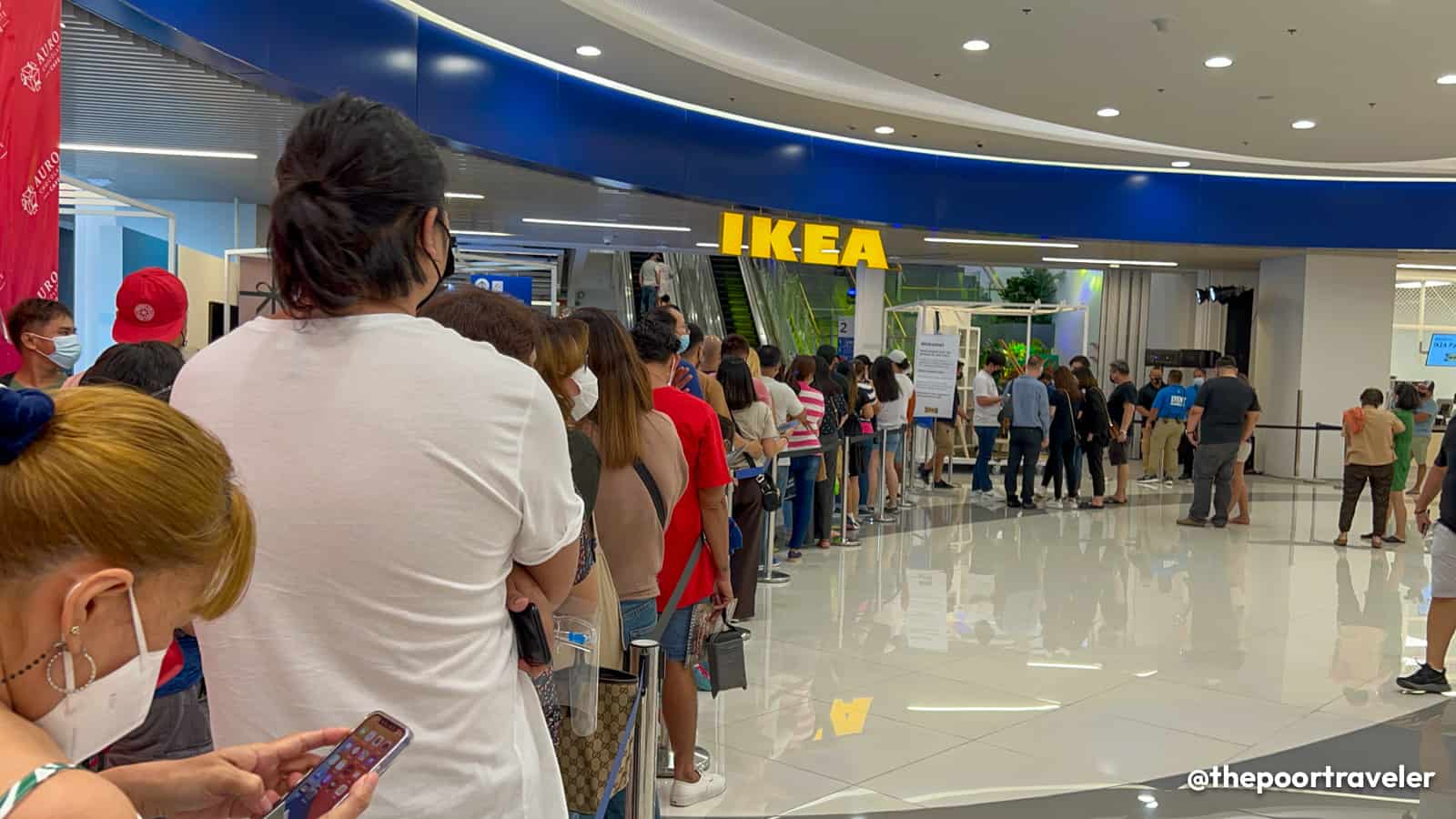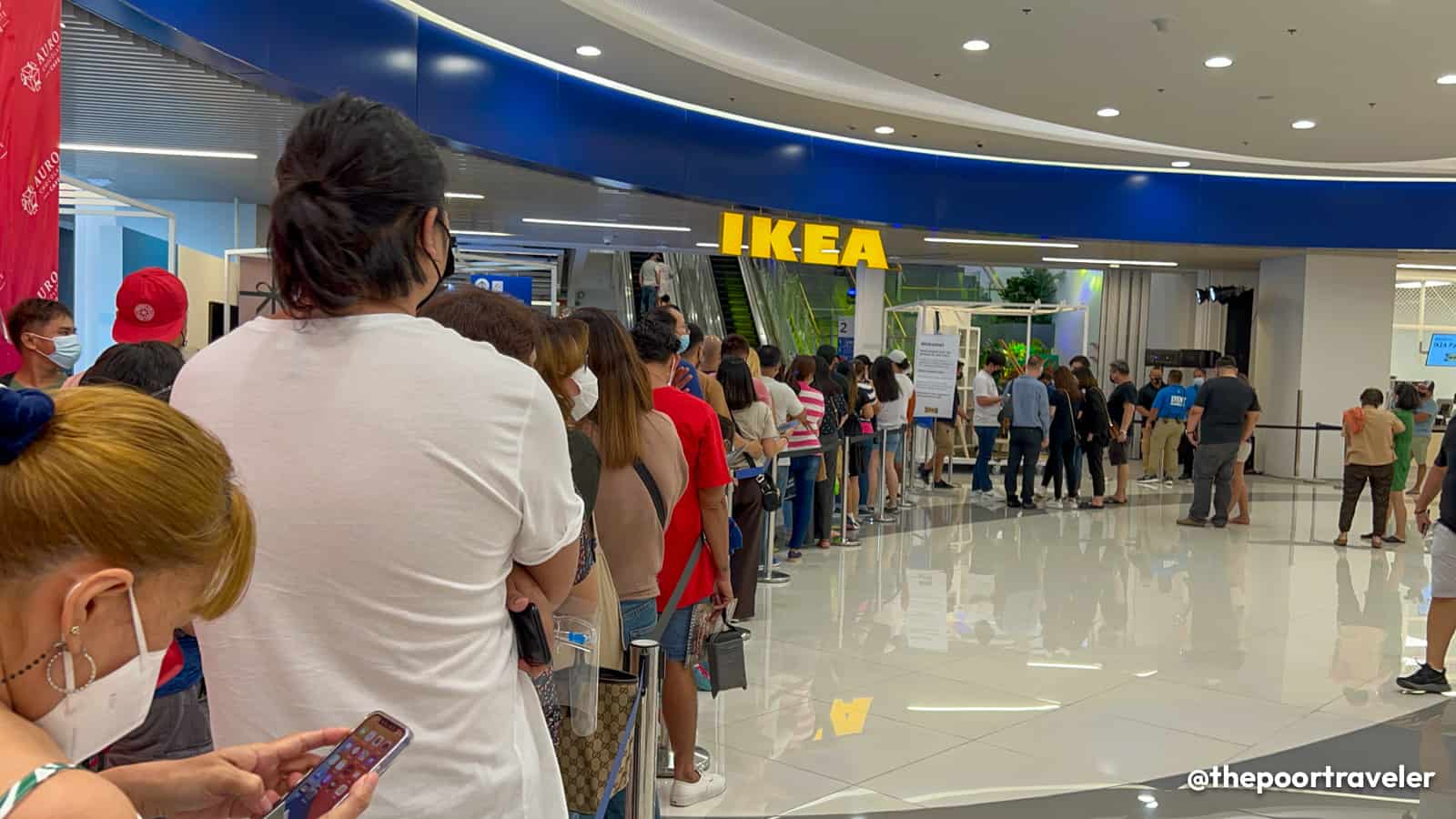 Meanwhile, the staff rightfully prioritized those scheduled for 4pm. A staff member would routinely call for shoppers who booked earlier slots (4pm), pluck them out of the line, and led them straight to the entrance.
As we were waiting, another staff member handed out booklets to keep us occupied. A security guy also made sure that there was a good distance between the customers.
At exactly 4:30 pm, we were let in. They scanned the QR code previously sent to us and checked how many we were on the group.
Inside, we took two sets of escalators all the way to the fourth floor, where we were greeted by staff handing yellow frakta bags, where you place the items you wish to purchase. "Frakta" means "to carry" in Swedish.
---
For a visual guide, we have a video version of this article here:
[embedded content]
It's best to be familiar with the basic arrangement of the sections. IKEA has three main areas: the Showroom (4th floor), the Market Hall (3rd floor), and the Self-Serve Furniture Area (also on the 3rd floor).
SHOWROOM, 4th Floor
This is a good place to start your shopping, especially if you're also looking for inspiration. Here you'll find dozens of well-styled rooms — bedrooms, kitchens, bathrooms, living rooms — all featuring IKEA products. If you like an item, check out the tag.
Products with YELLOW TAGS are usually bulky items. If you wish to buy a yellow-tagged item, approach a staff member to assist you with your purchase.
Products with RED TAGS are items that you should pick up at the Market Hall or the Self-Serve Furniture Area on the third floor. For these, take a photo of the tag to use it as reference later on when it's time to collect the item.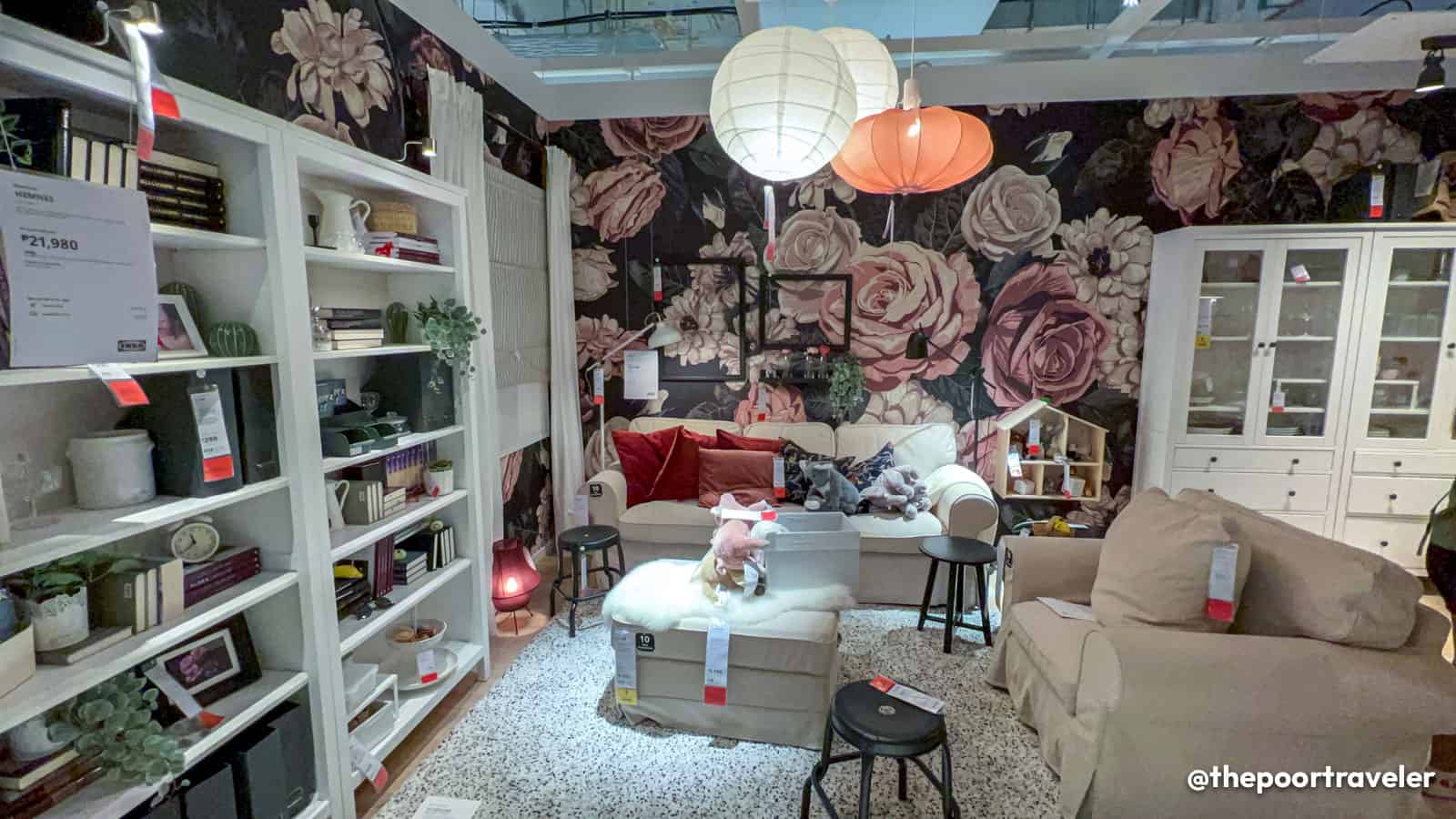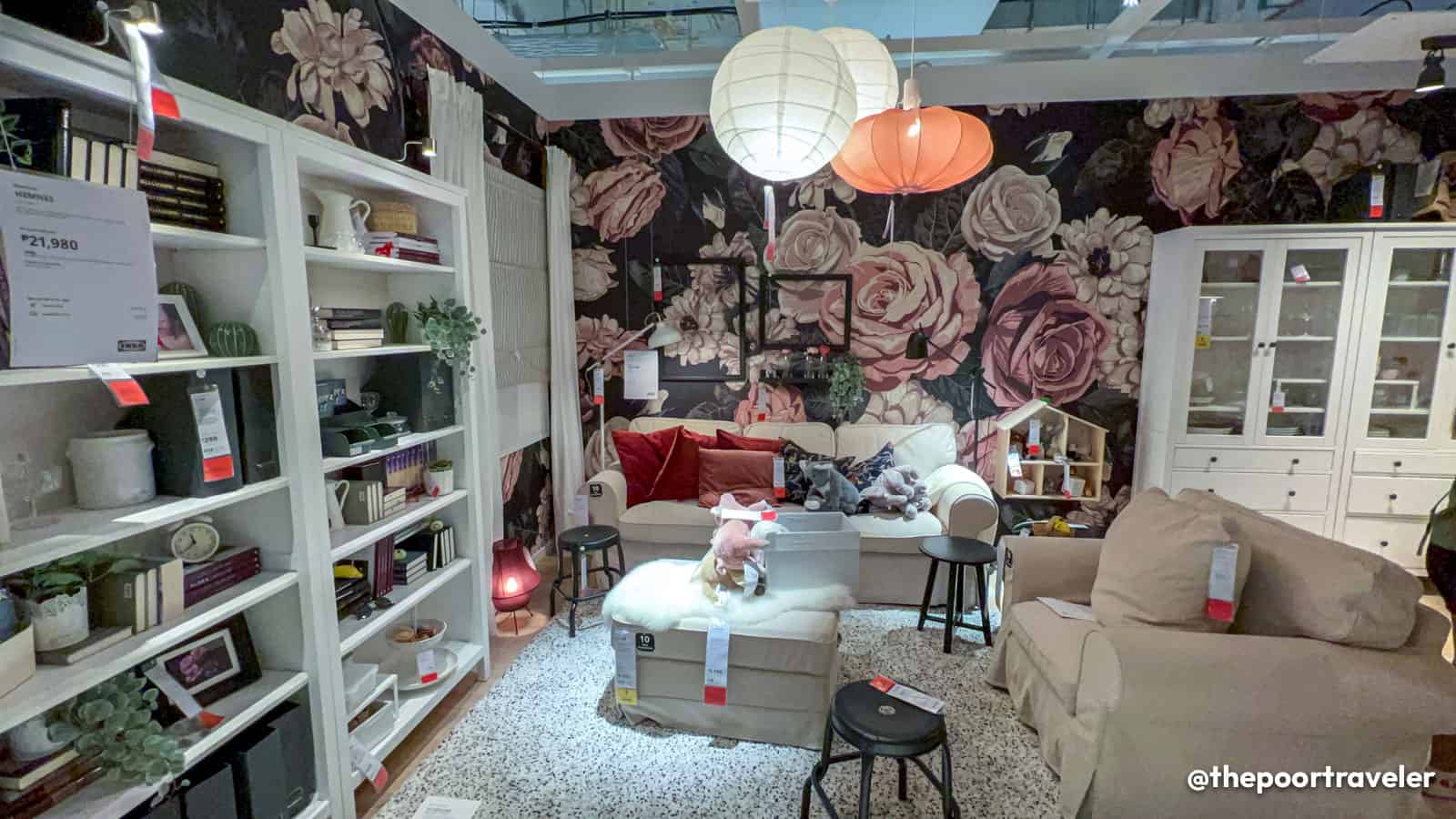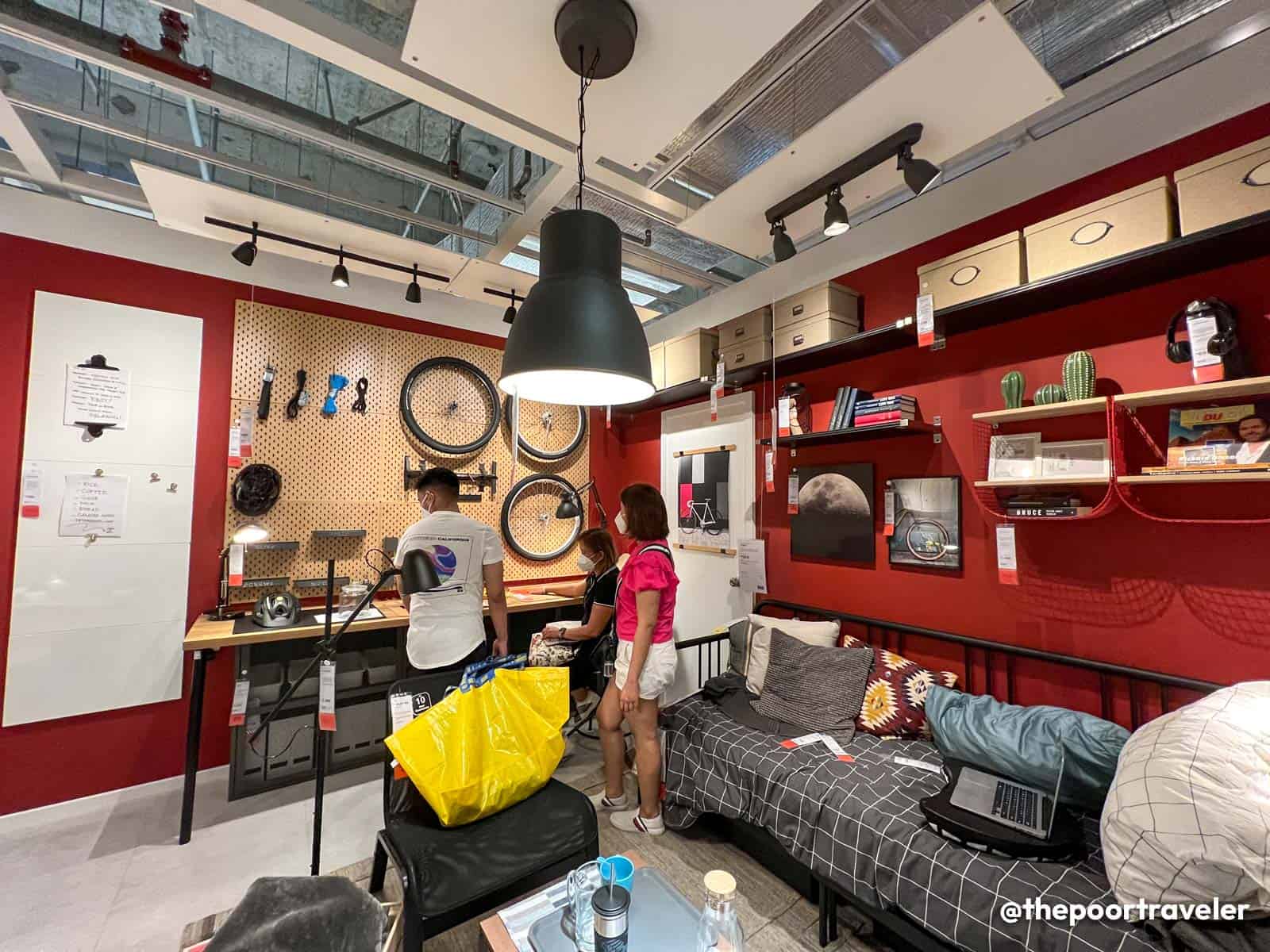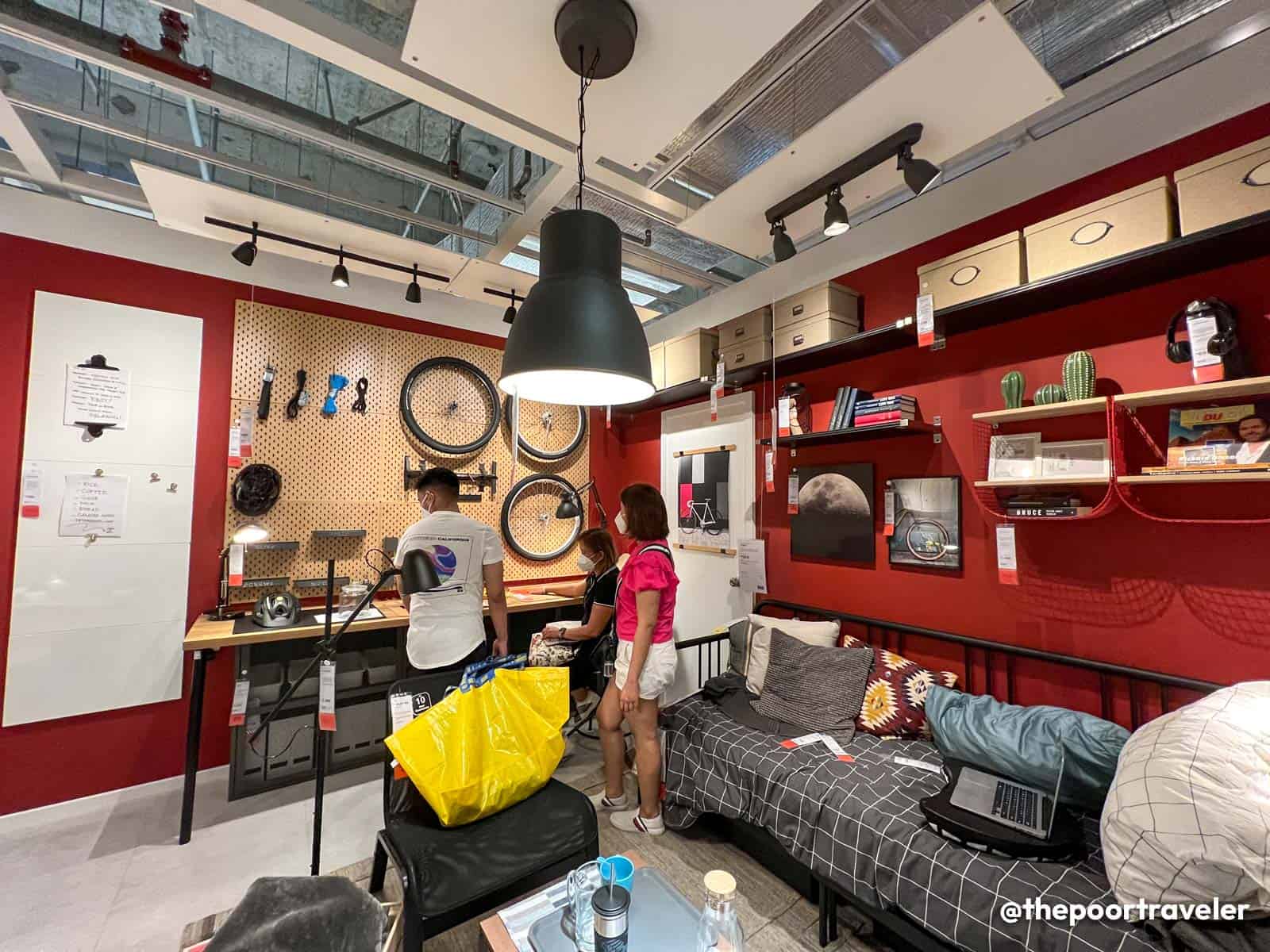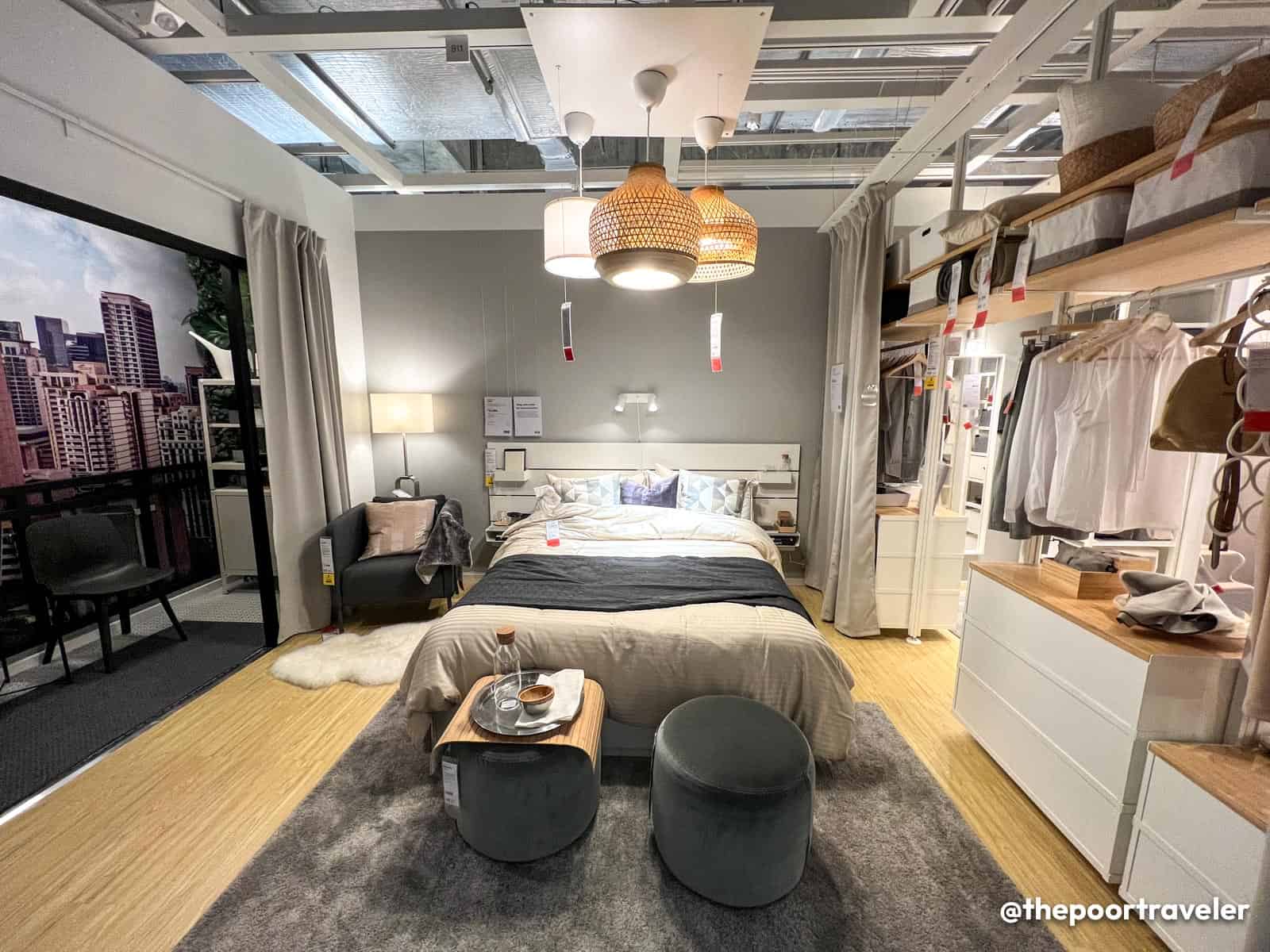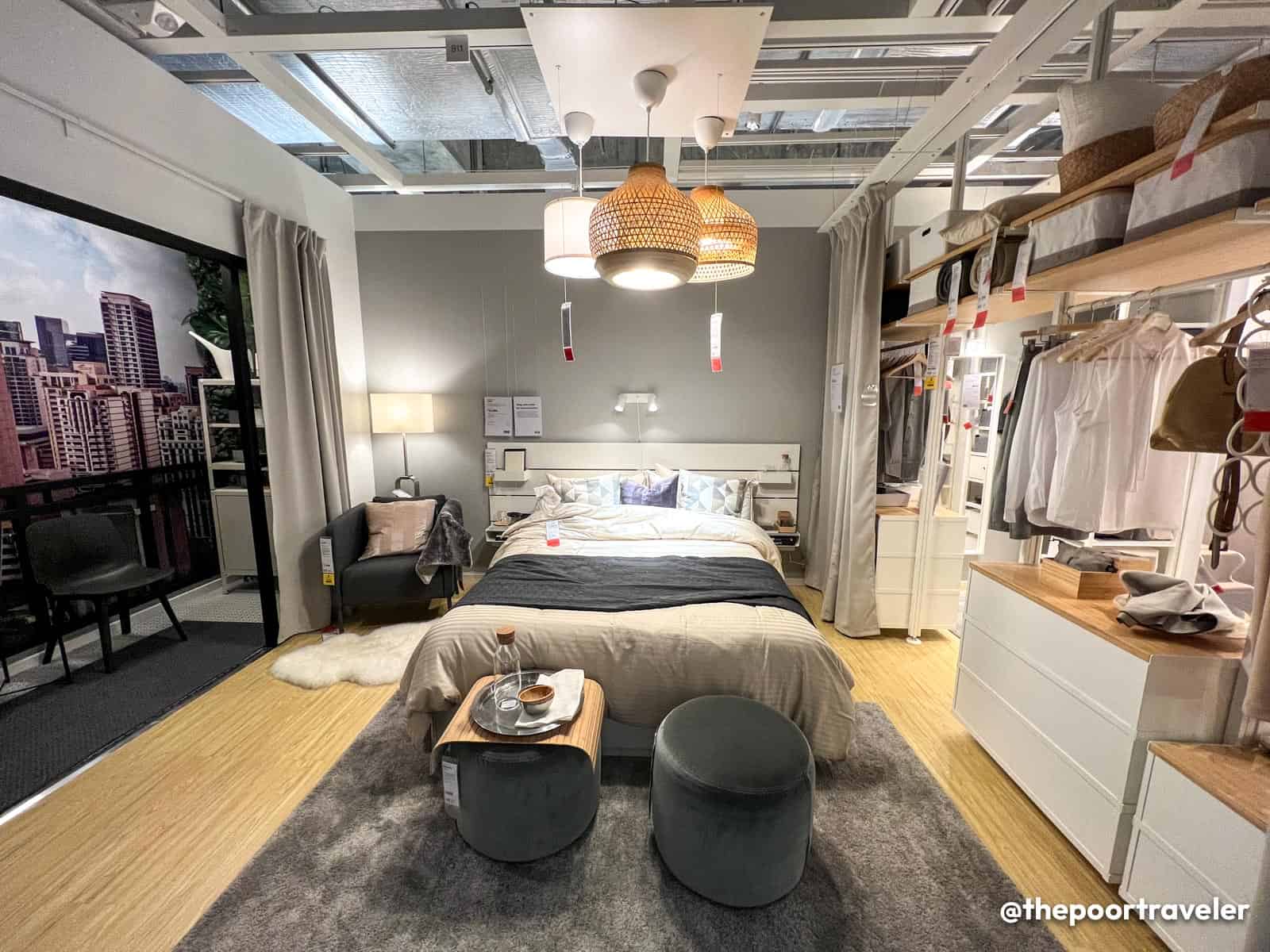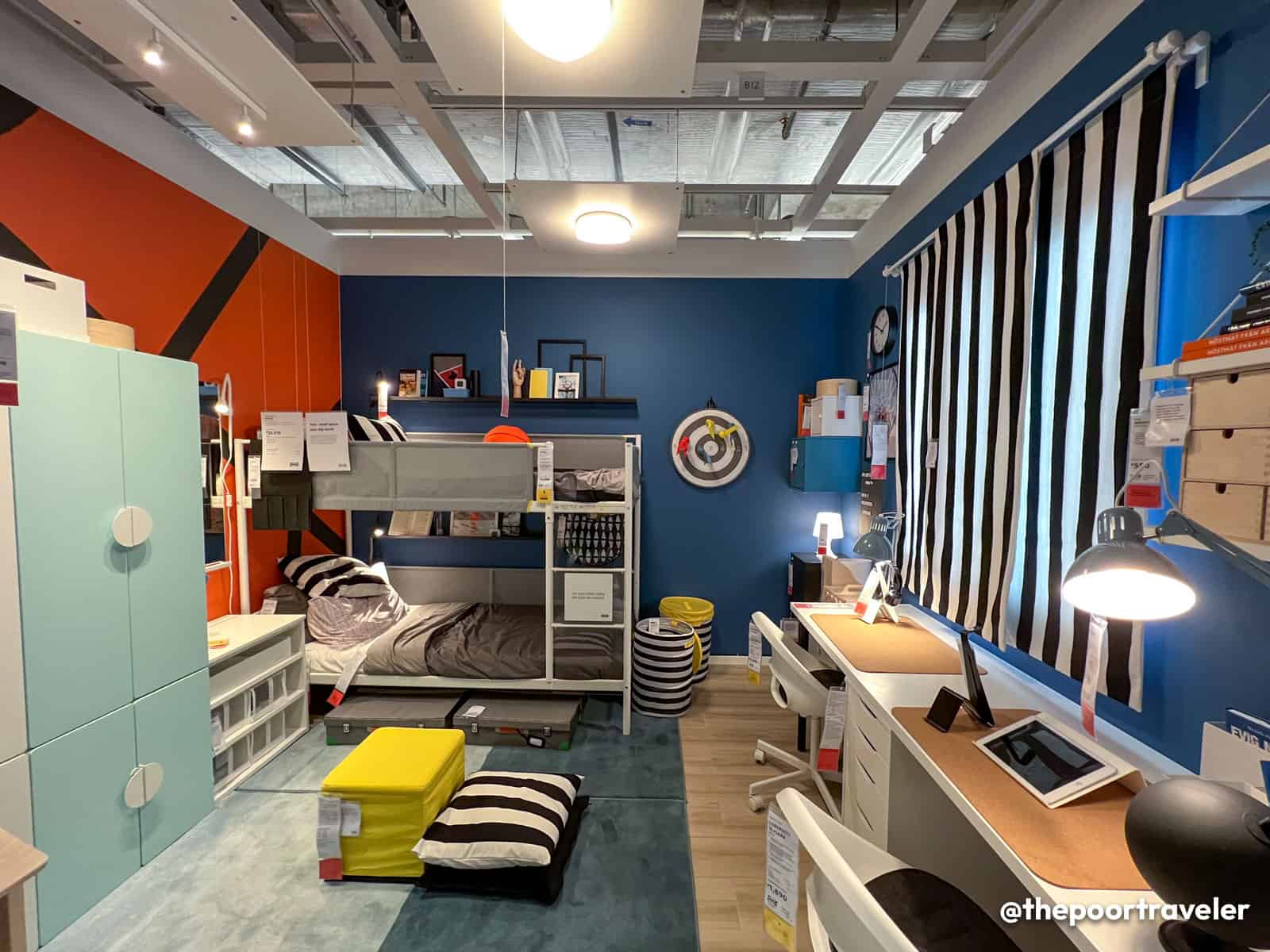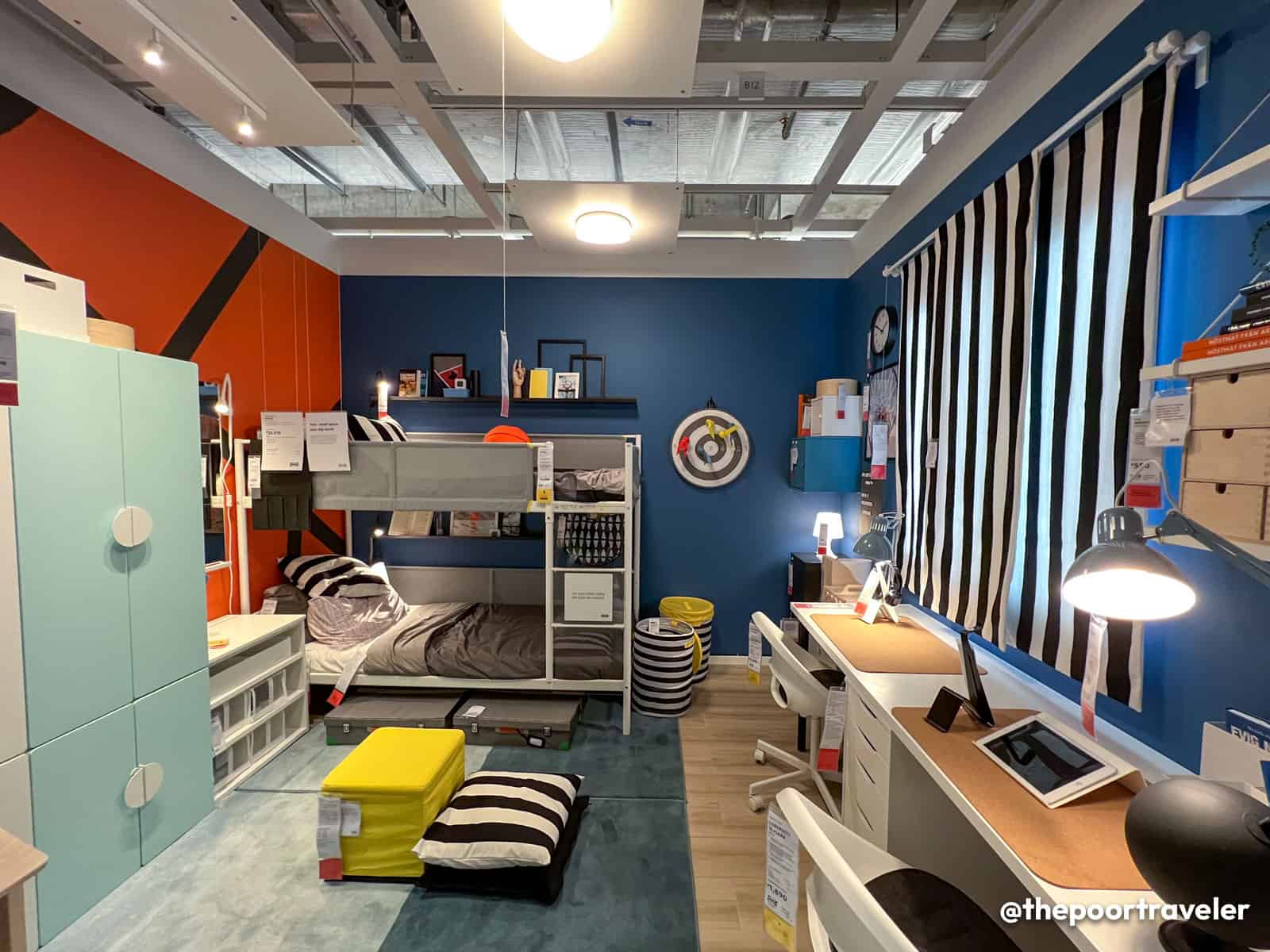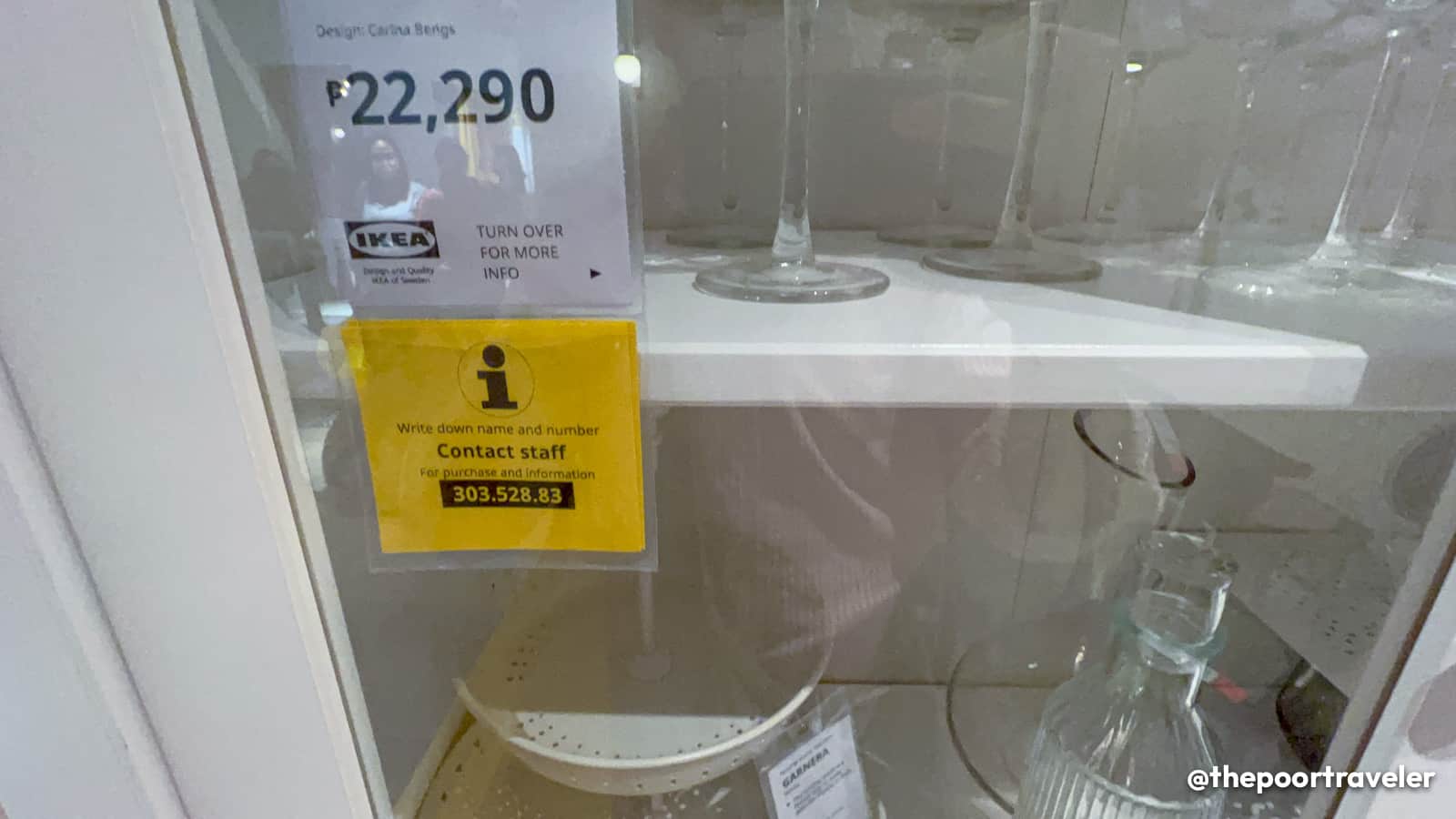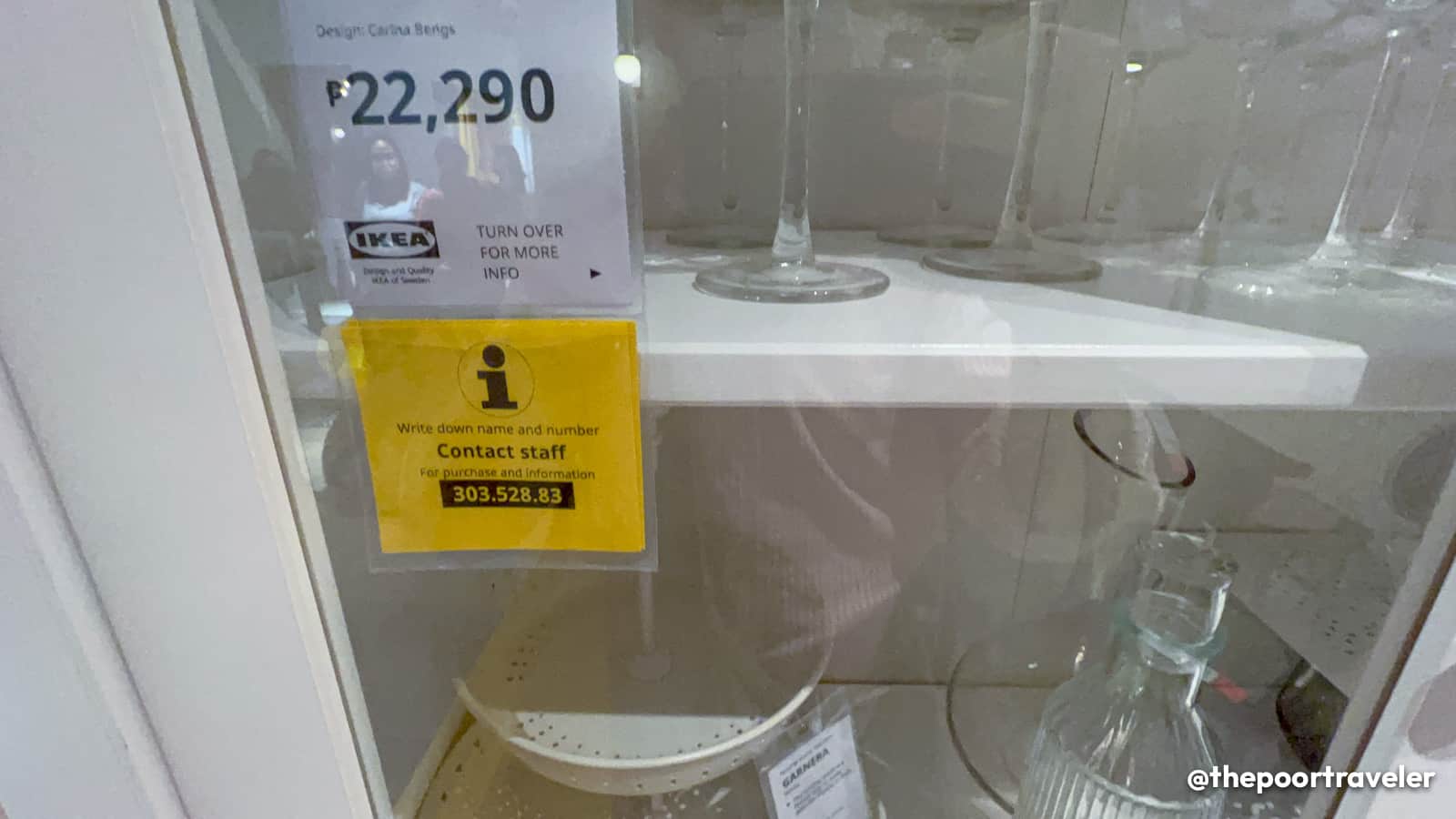 MARKET HALL, 3rd Floor
This is the area immediately down the stairs from the Showroom. The first thing to greet you is the corner where all the trolley carts are parked and a wall featuring products that cost less than P100 apiece. But this is just a quick taste of what's in store for you inside.
Think of it as a giant department store bursting with smaller items like kitchenware, glassware, utensils, bathroom products, bed sheets, pillows, toys, lights — name it!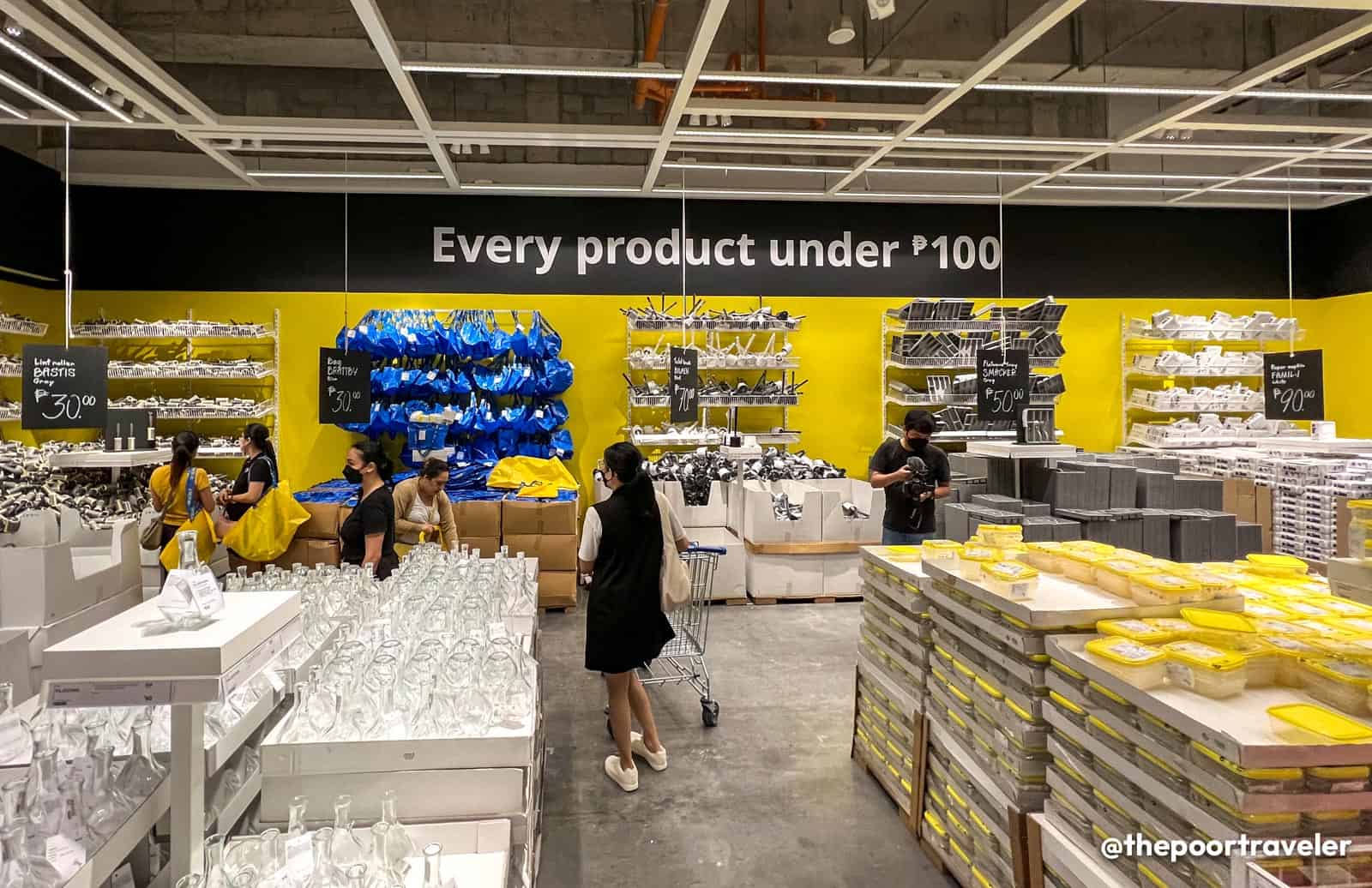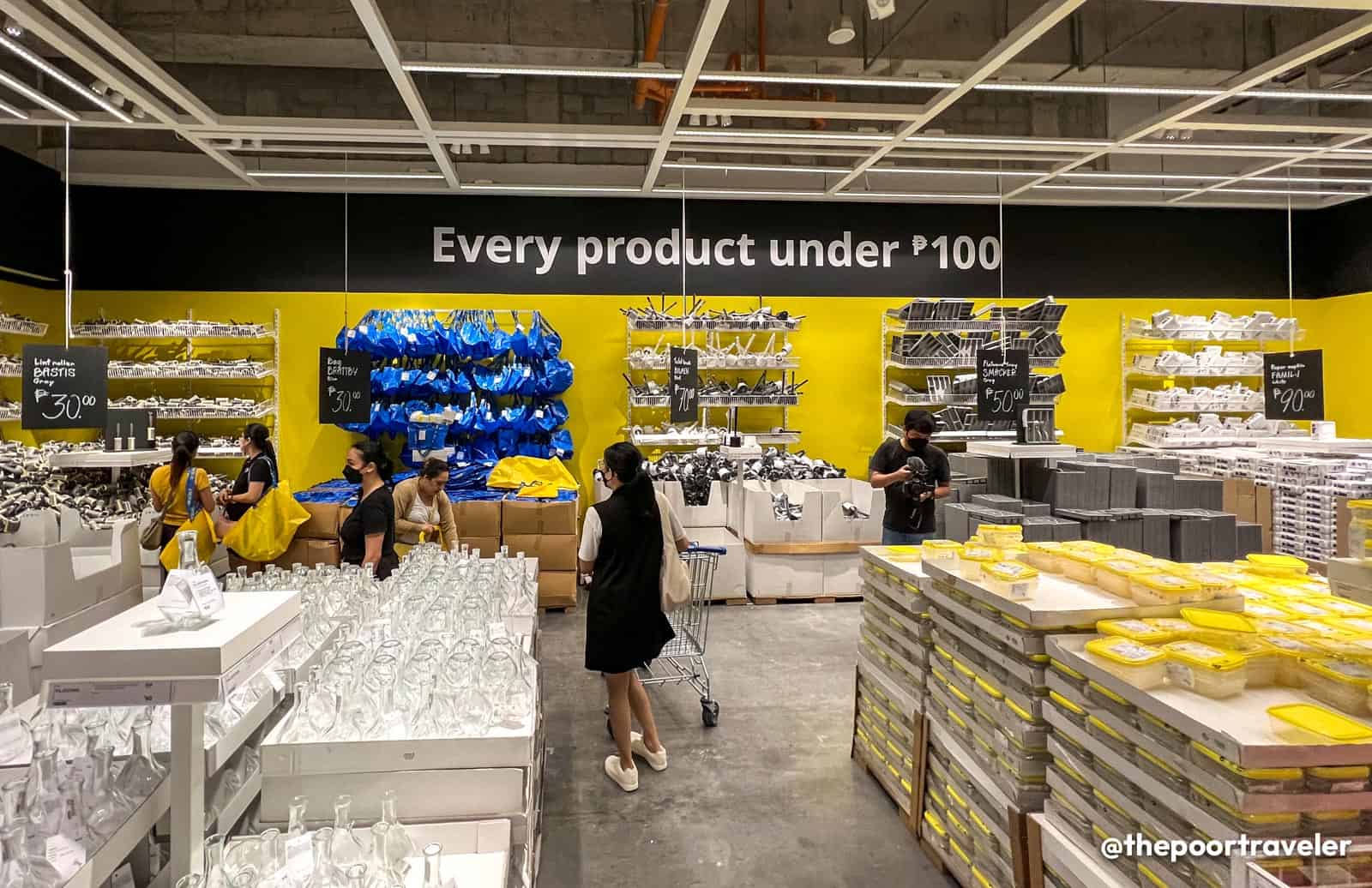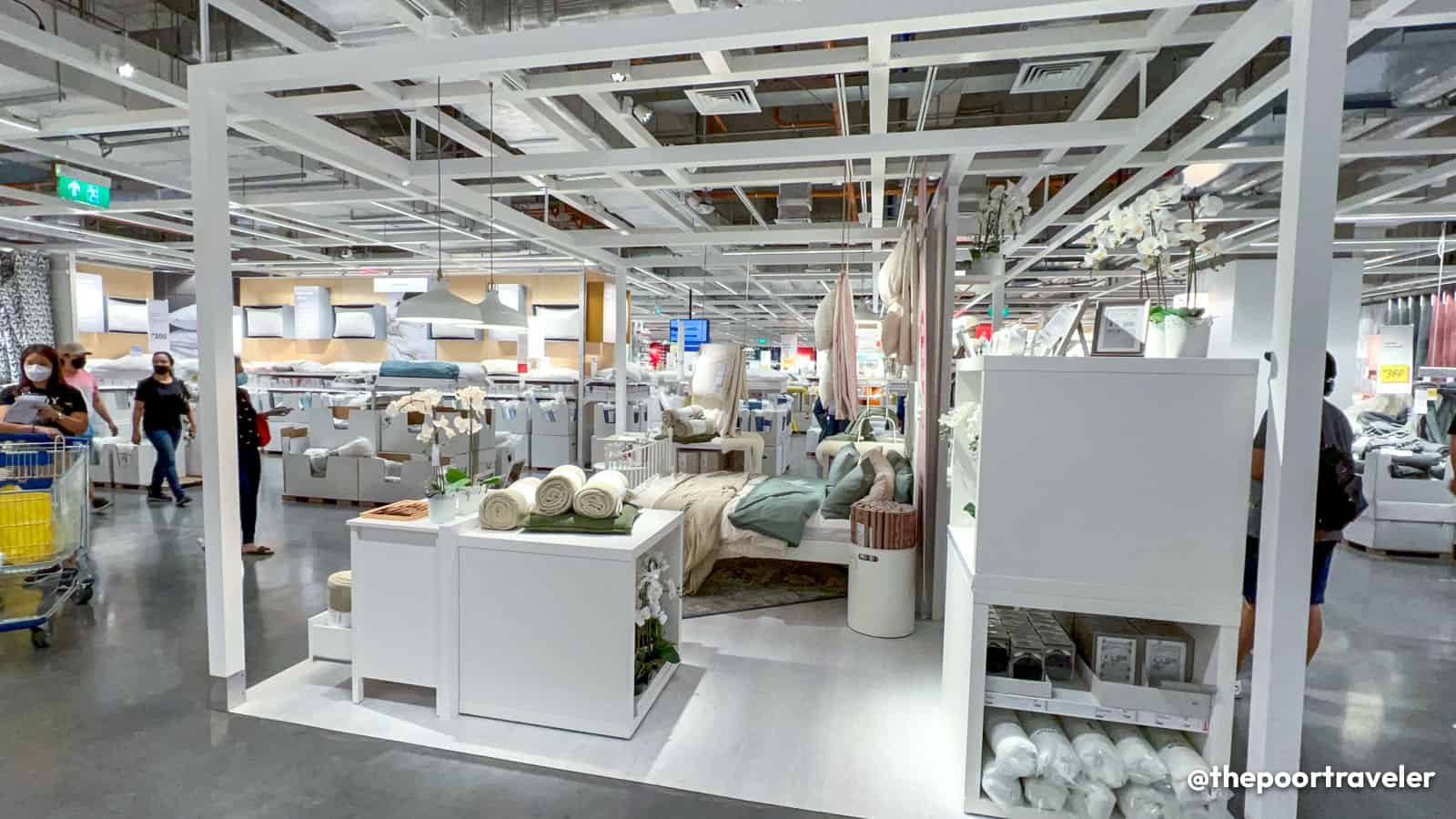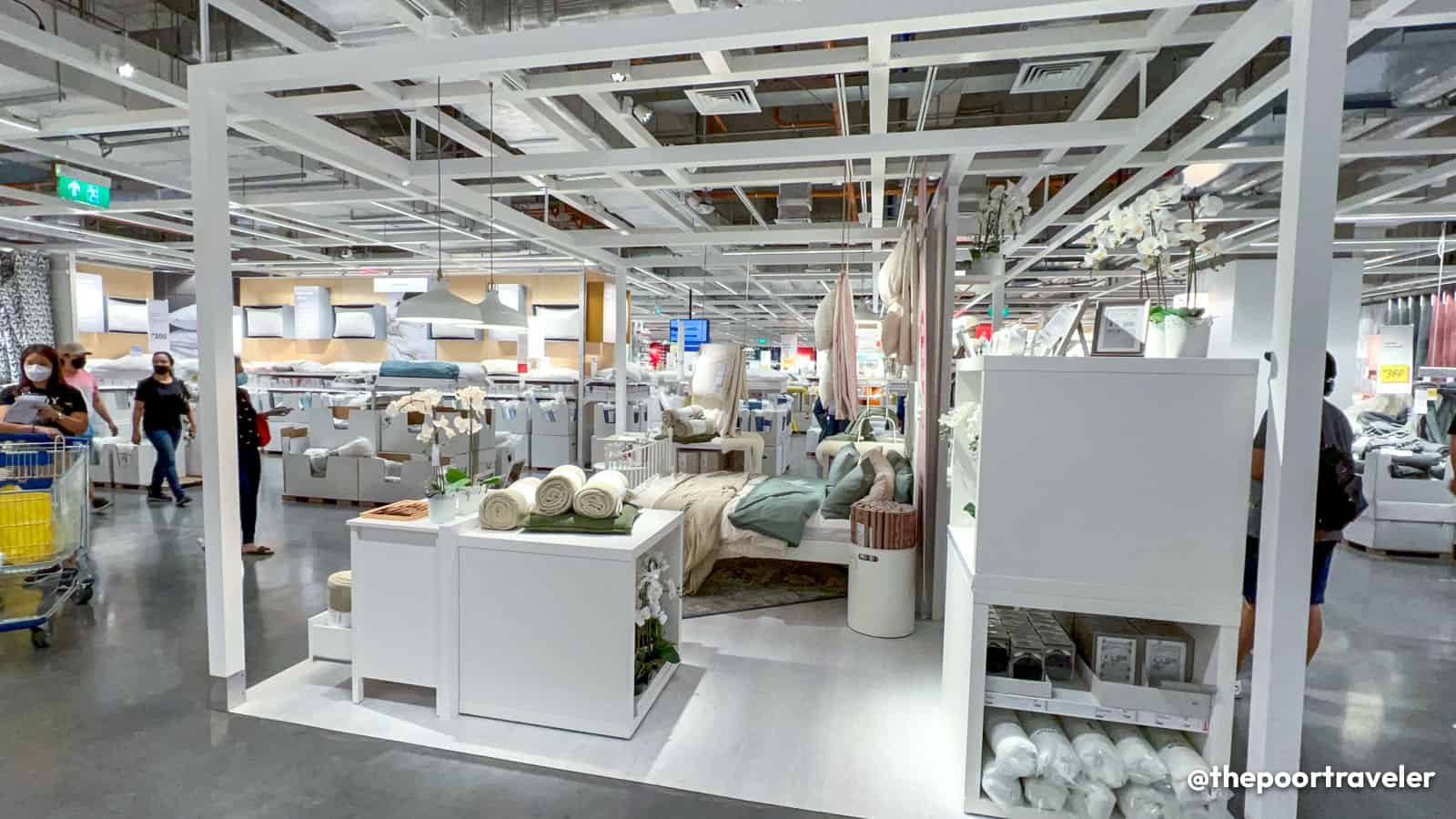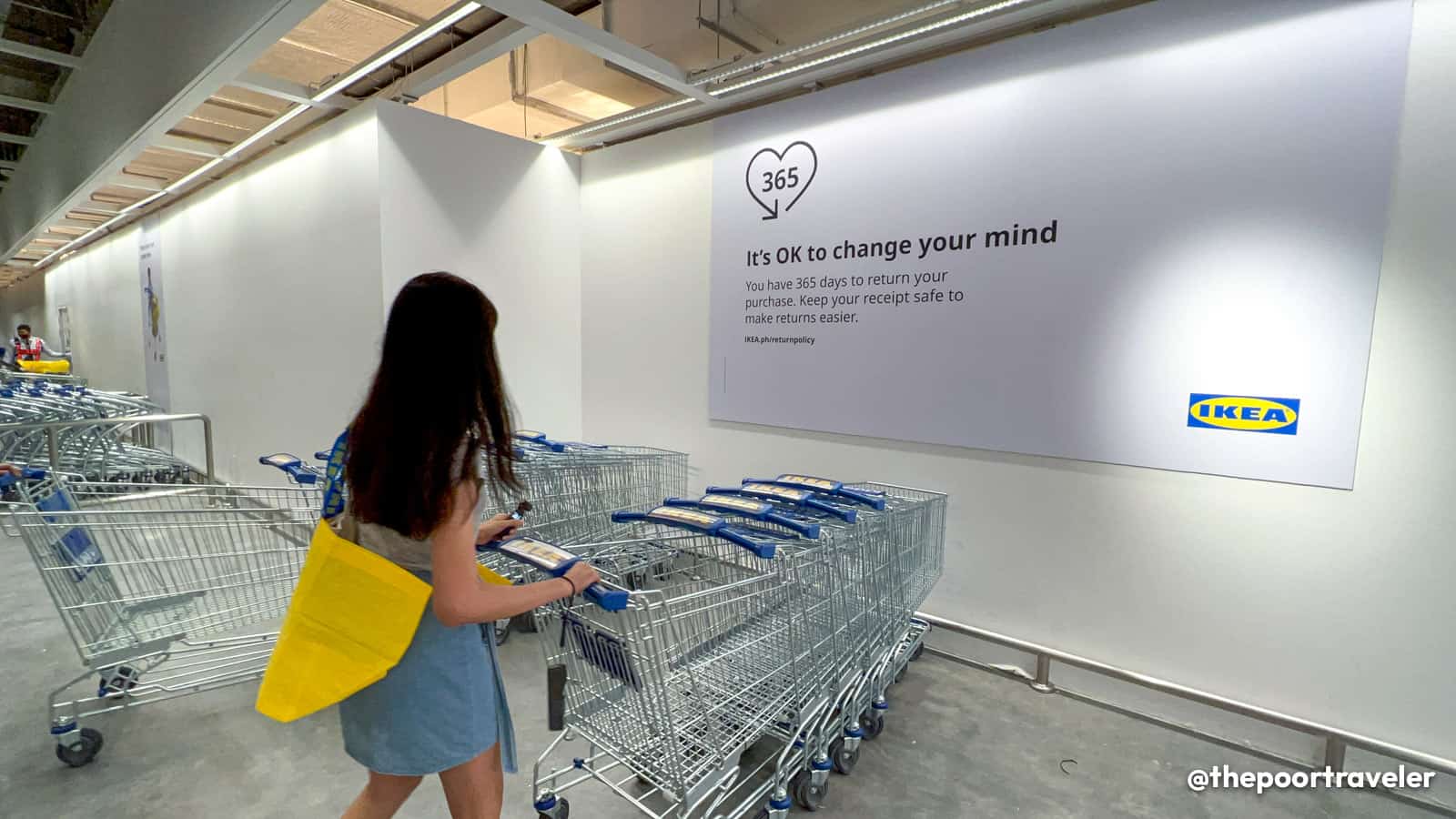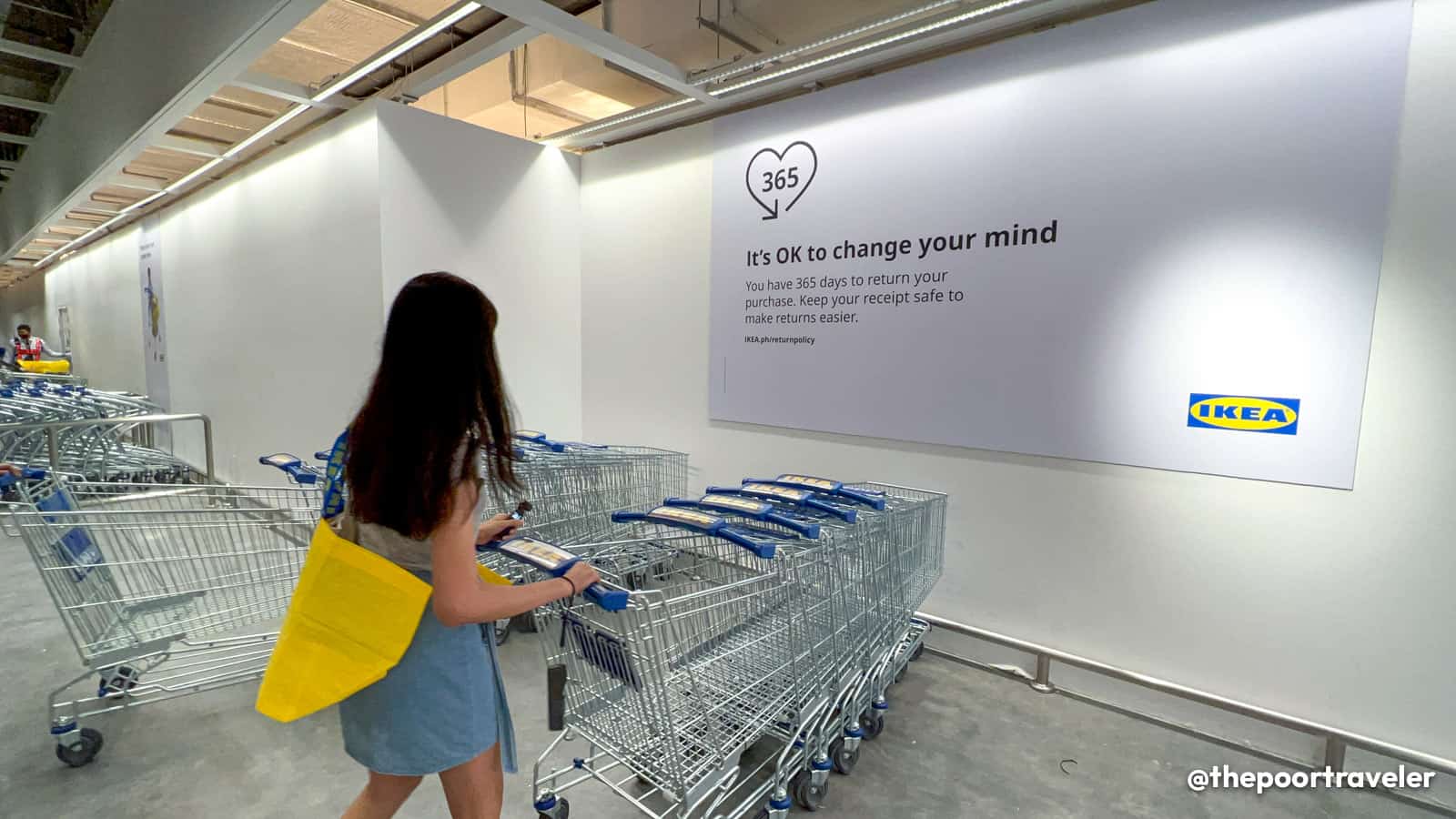 SELF-SERVE FURNITURE AREA, 3rd Floor
Adjacent the Market Hall. This is where you'll pick up bigger items like drawers, cabinets, couches, and bed frames. Just check the tags and get the item from the shelf.
Self-service! But if you need help, there are staff members roaming around.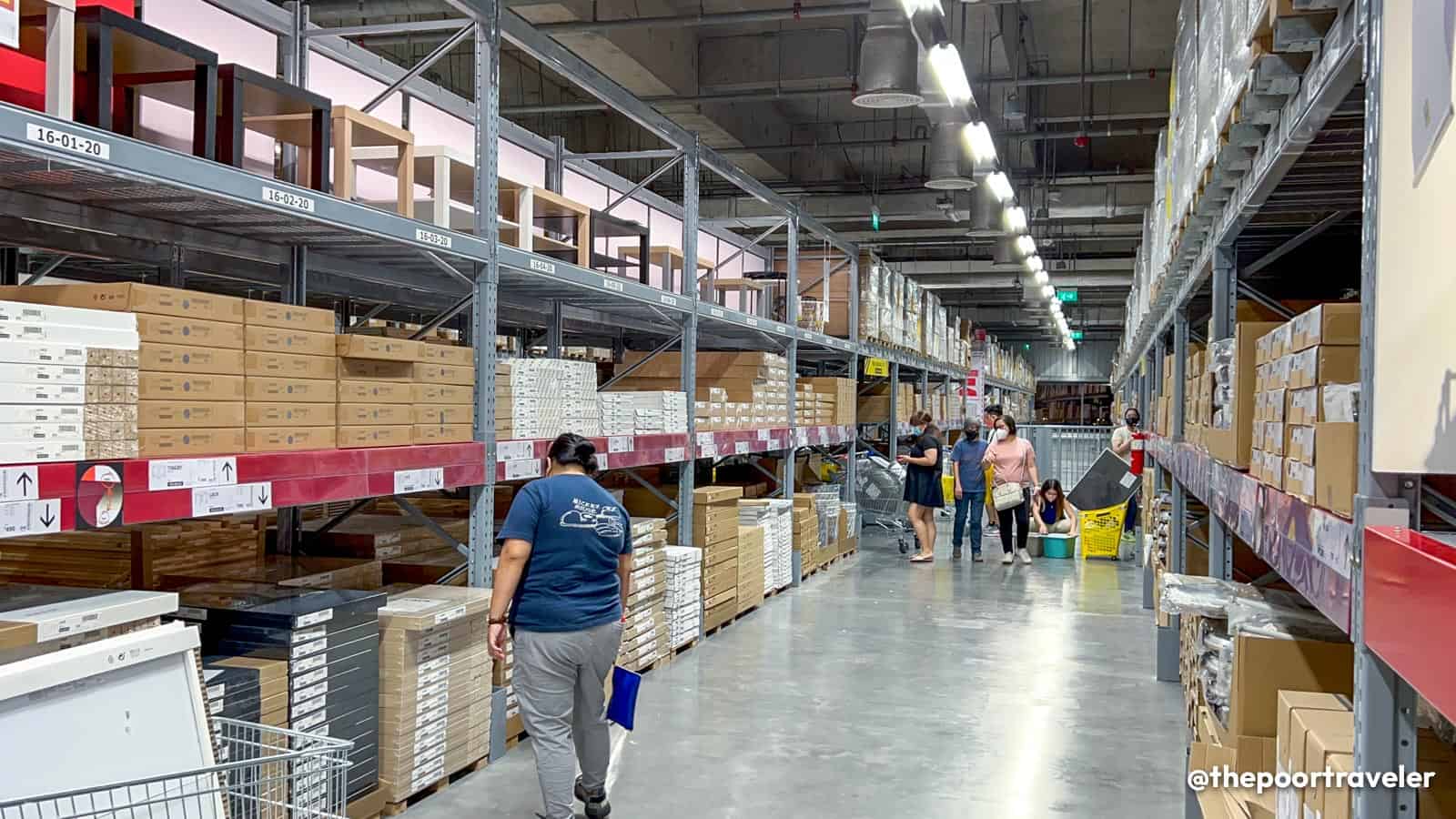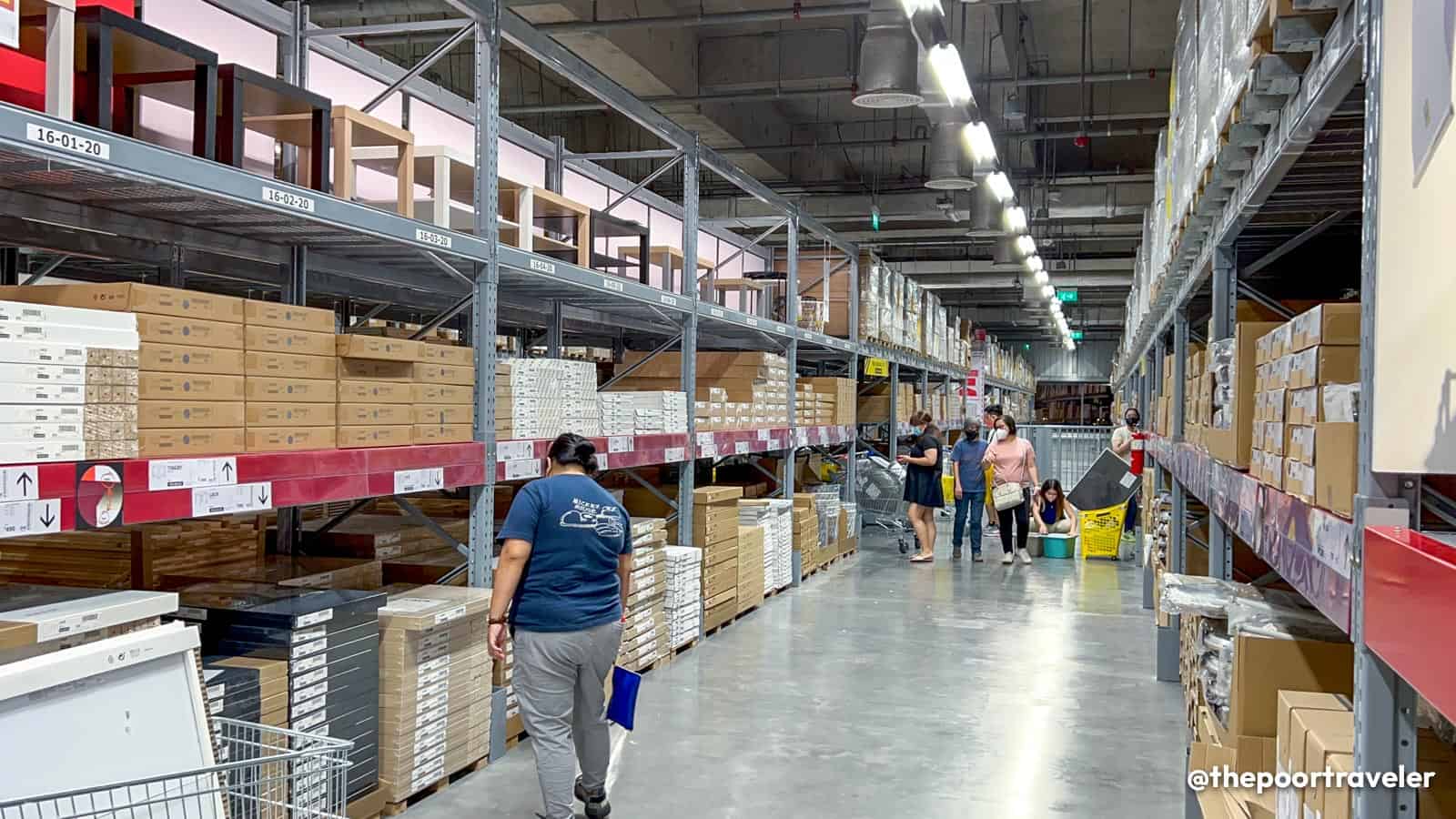 CHECKOUT COUNTERS, 3rd Floor
After the Self-Serve Area are the CHECK-OUT COUNTERS. If I'm not mistaken, there are around 30 counters straddling the entire room. During my visit, the queue was so long but mostly because most tend to flock towards the closest counters.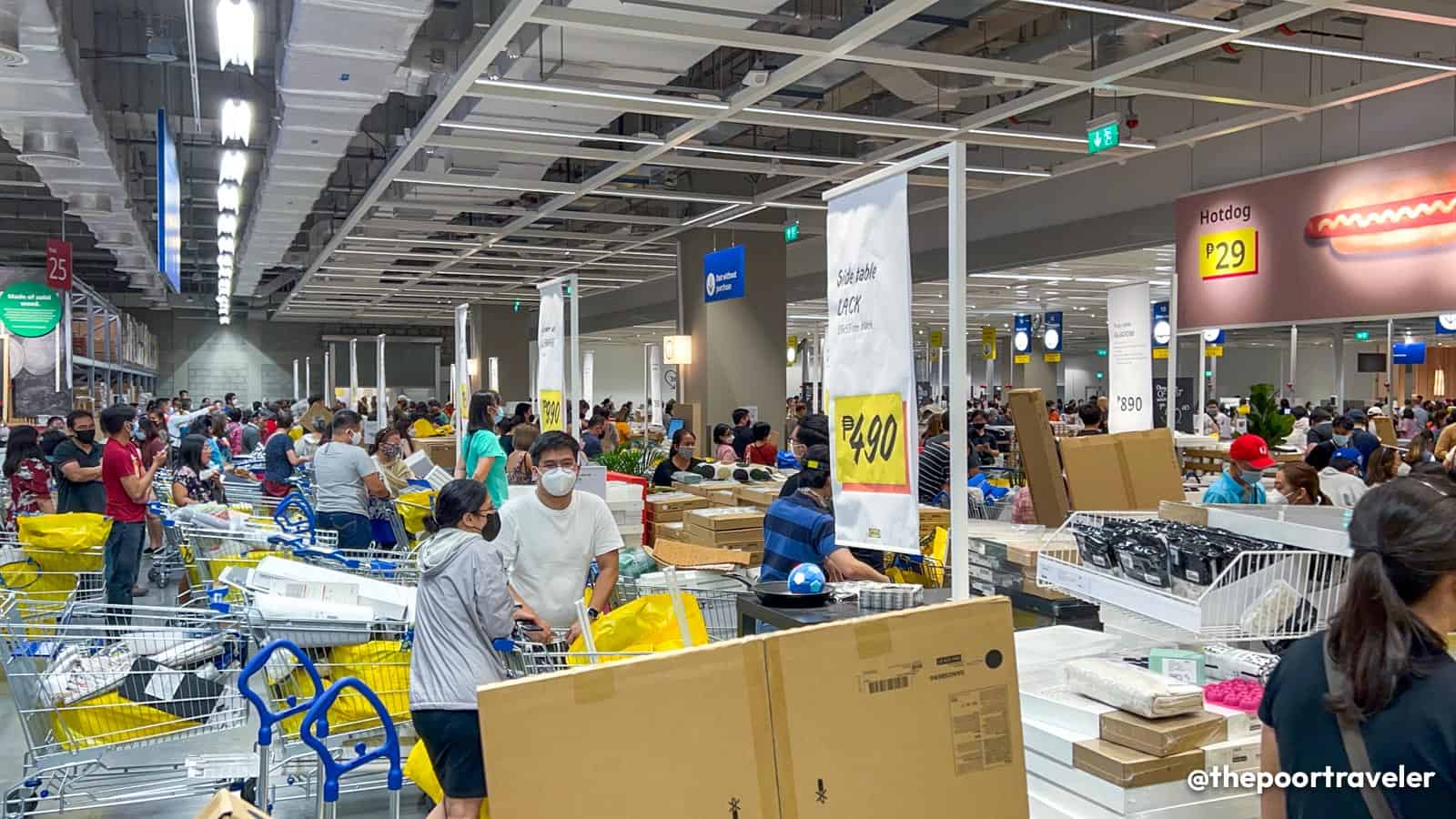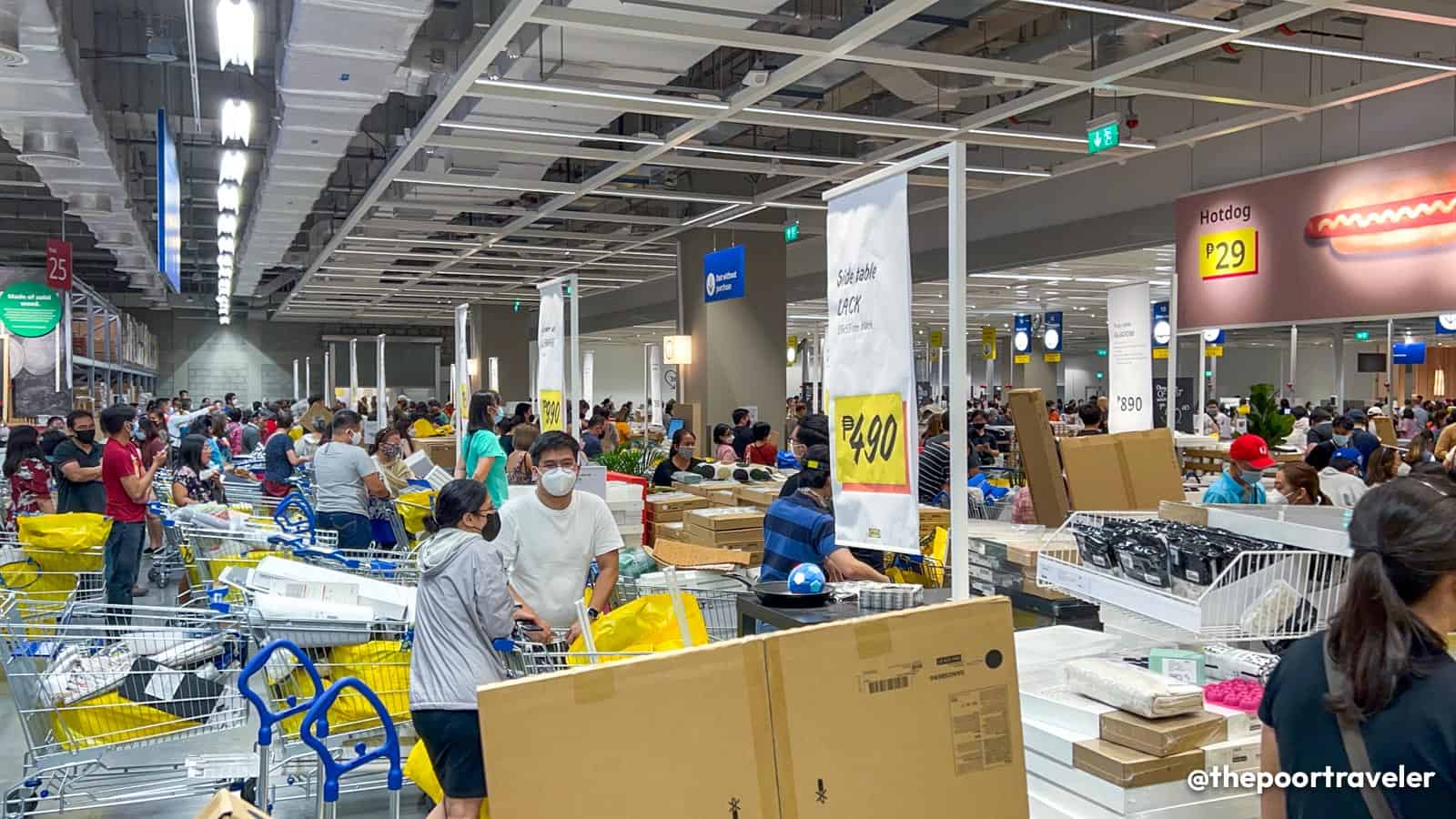 NOTE: If you're purchasing 10 items or fewer, you may queue towards the yellow-marked Express Counters, positioned at the far end of the room. Most shoppers fail to notice this because they're too far away and giant columns block the view. But there are 10 Express Counters in that corner.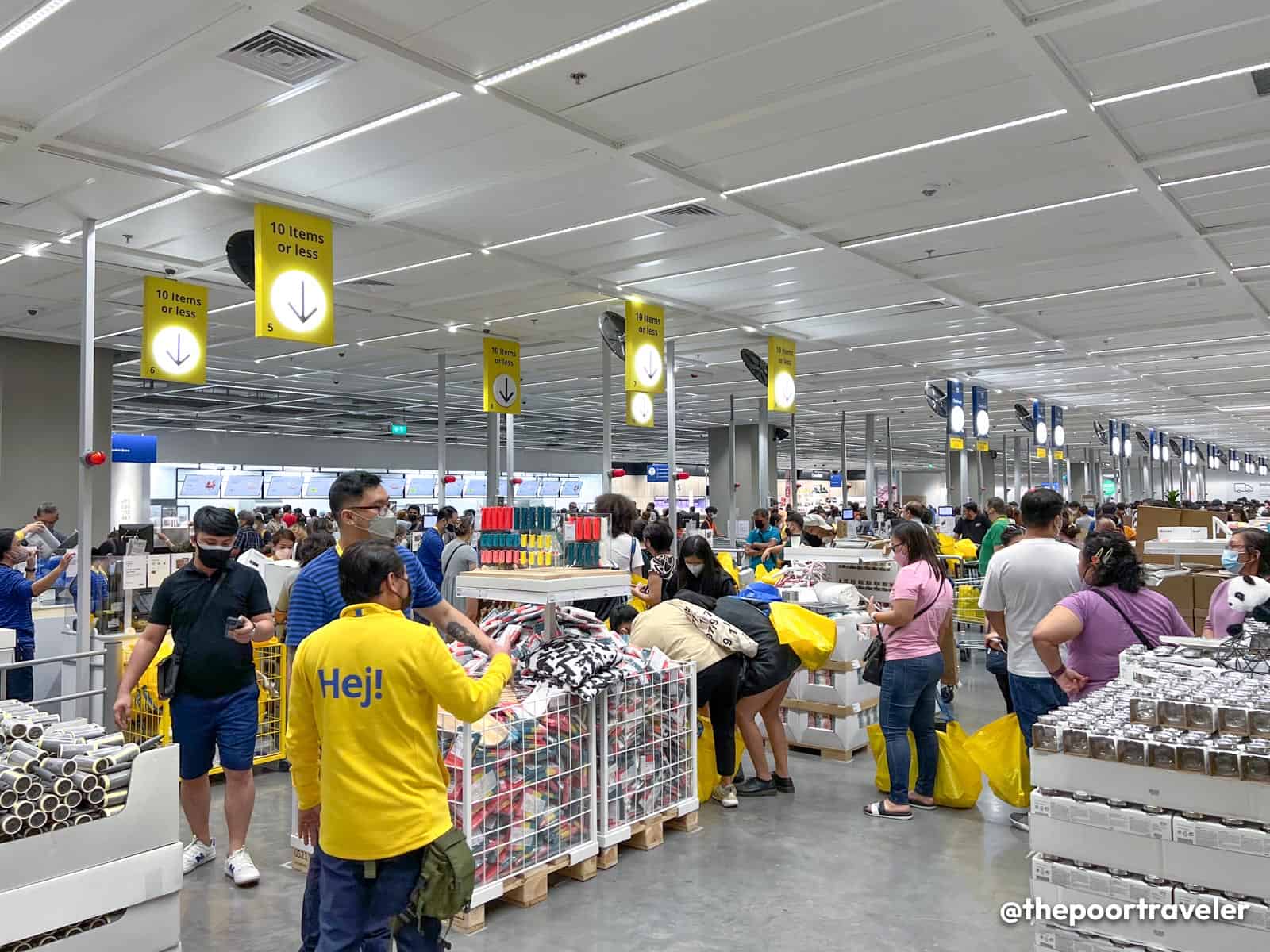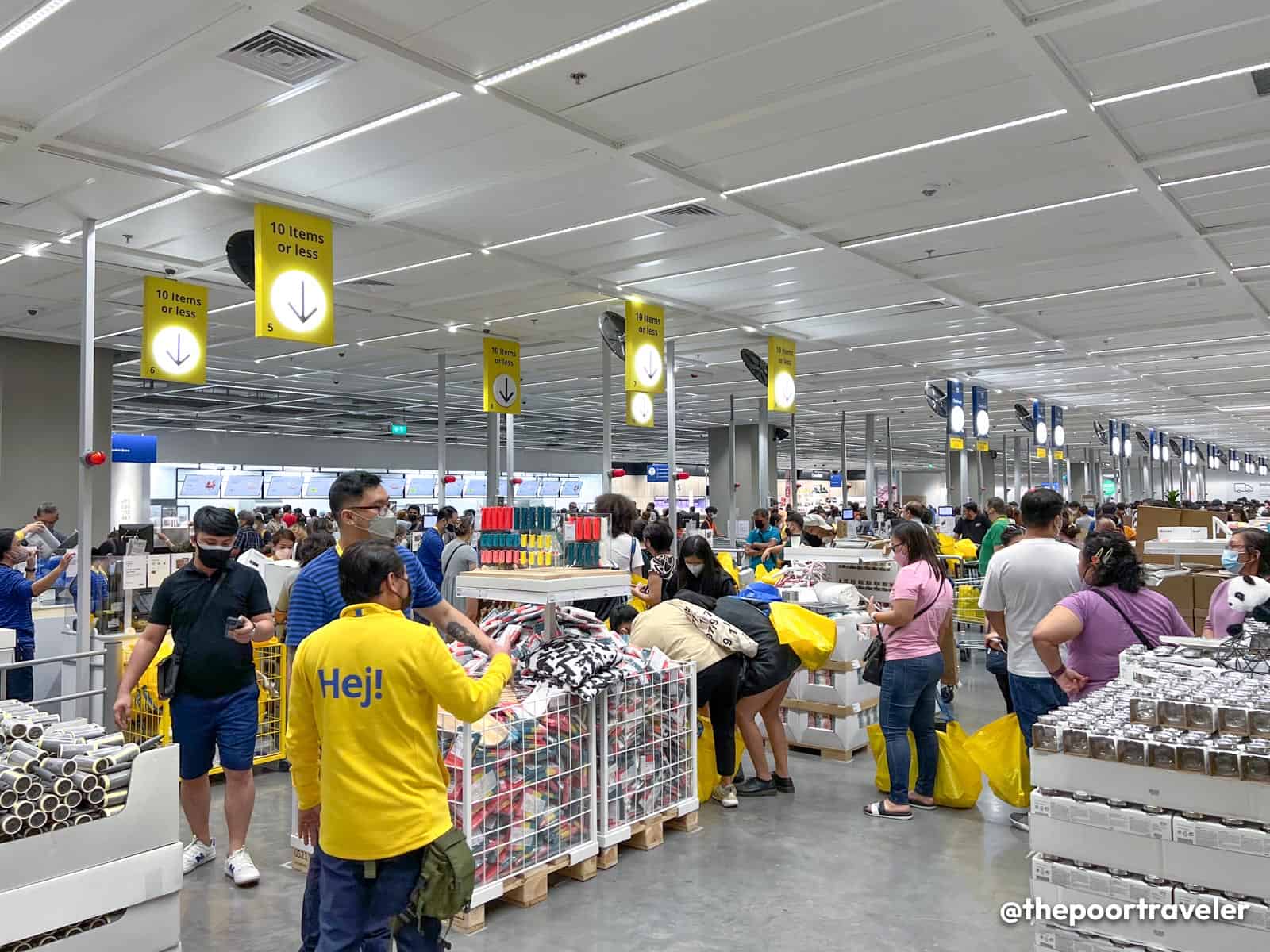 REMINDER: While inside the store, make sure to:
Wear your face mask at all times.
Observe proper physical distancing.
Sanitize your hands using alcohol or alcohol-based sanitizer.
---
IKEA has its own food establishments within the building. The most prominent are the Swedish Restaurant and Swedish Cafe.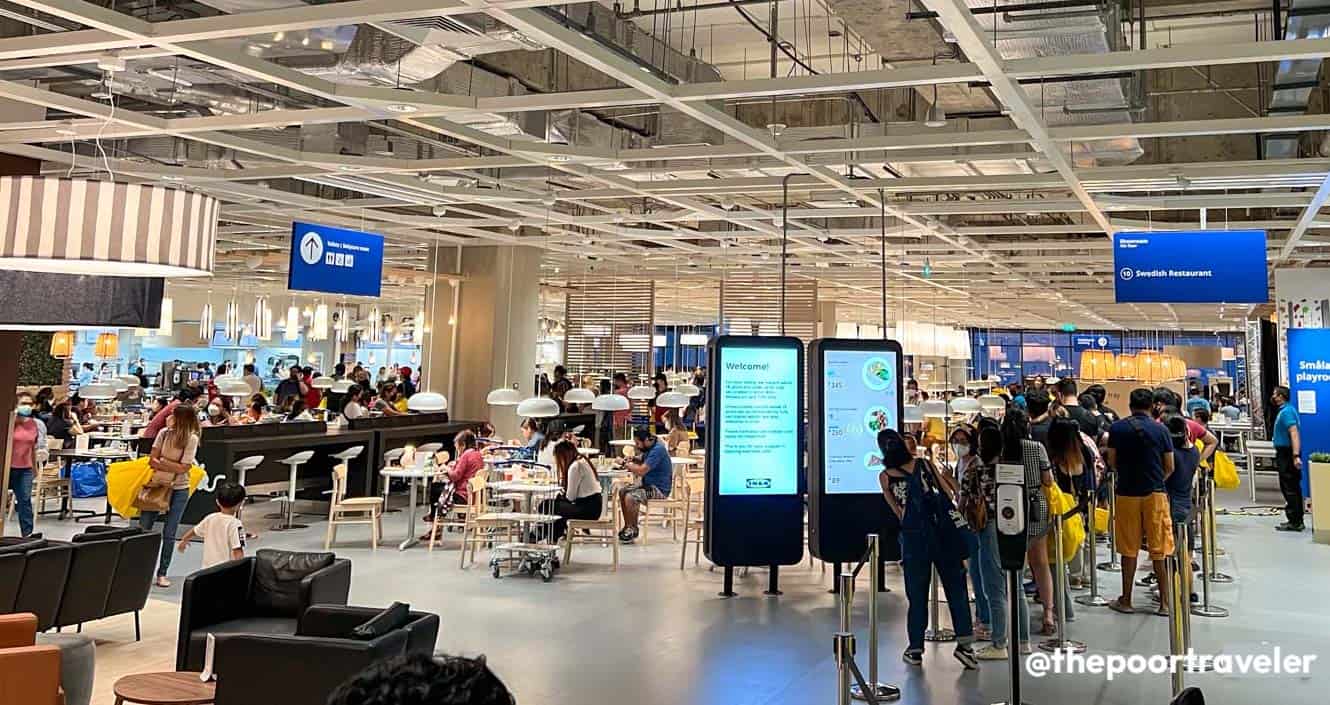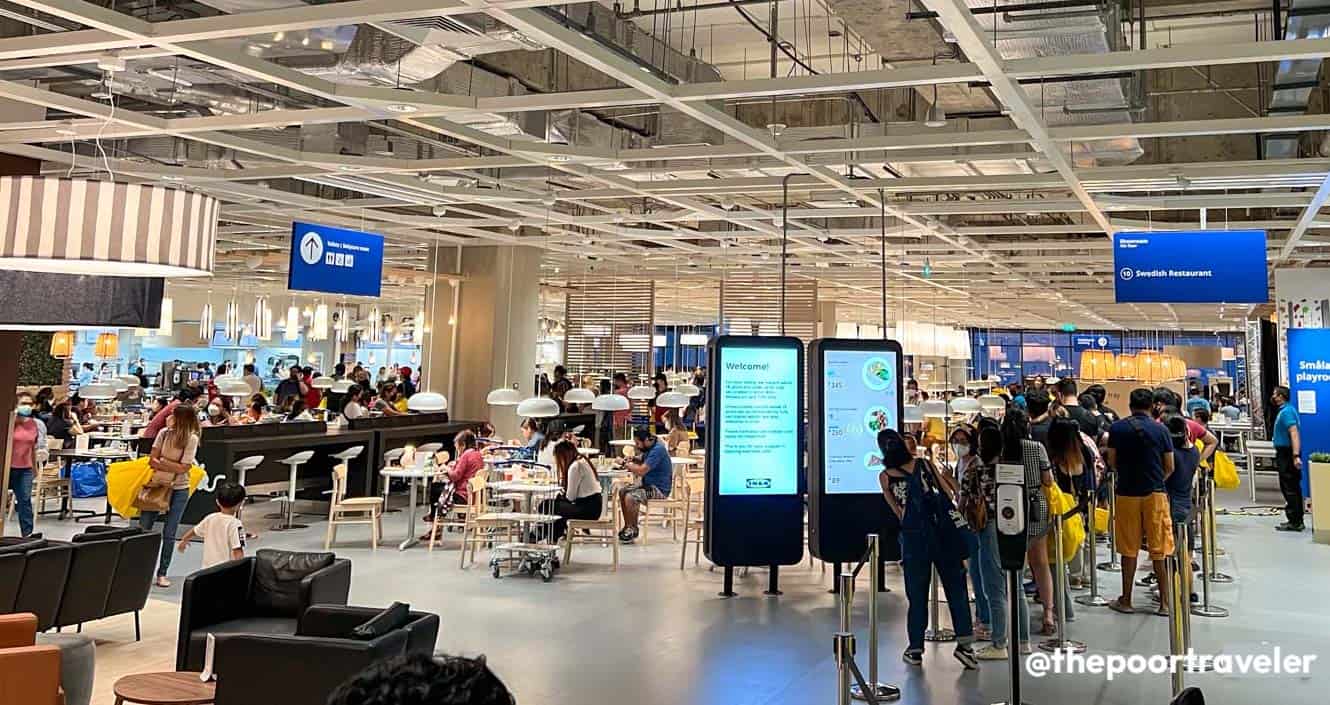 Swedish Restaurant serves IKEA's iconic Swedish meatballs (available in 8-, 12-, 16- and 20-piece options) with broccoli and mashed potatoes. Other bestsellers include baked salmon fillet and chicken wings. For dessert, apple pie and crunchy chocolate almond cake. And for beverages, you may order brewed coffee, hot black tea or their signature Nordic drink made from elderberries, pears, lemons, and raspberries.
Swedish Cafe offers mostly coffee, tea, pastries and desserts. It's on the third floor, near the stairs and escalators by the entrance/exit. I think I also saw a soft-serve ice cream machine nearby.
There's also a bar immediately after the checkout counters. It sells some items like chicken wings, hotdog, empanada and ice cream.
If you plan on dining at the restaurant, bring your vaccination card! Only fully vaccinated adults (18 years old and above) are allowed to dine the restaurant. Unvaccinated minors are allowed only if they're accompanied by fully-vaccinated adults.
Unfortunately, all that walking around left us famished. Without any more energy to queue up, we decided to skip eating here and just dine elsewhere at SM Mall of Asia. We'll just return to IKEA another day to try the resto and cafe. We'll update this post after.
---
What are the operating hours of IKEA Philippines?
Daily, 10:00 am – 10:00 pm.
Last available slot: 8:30 pm.
---
How long can I stay inside IKEA Philippines?
No time limit.
Once you're inside, you may spend as much time as you want, even up to closing time.
---
Are walk-ins allowed?
No, not for now. Due to the pandemic, a NO BOOKING, NO SHOPPING policy is implemented.
See the RESERVATION section above for details.
---
How long is the waiting time?
That depends on a lot of factors, so it's hard to tell.
However, based on our experience, we spent 30 minutes falling in line to enter the store. But it actually took us 10-15 minutes to get from the start of the line to the entrance area. The rest of the time was spent just waiting for our scheduled entry time. The queue moved pretty quickly and it was pretty organized.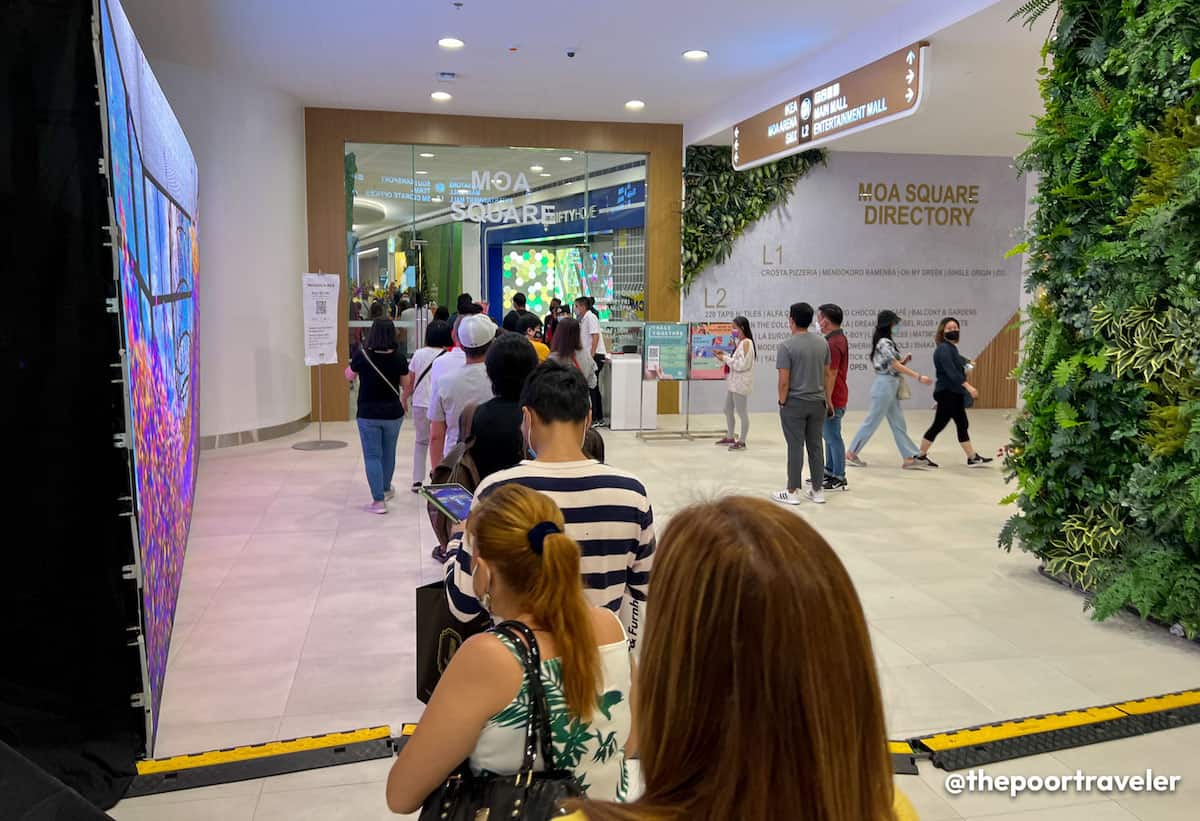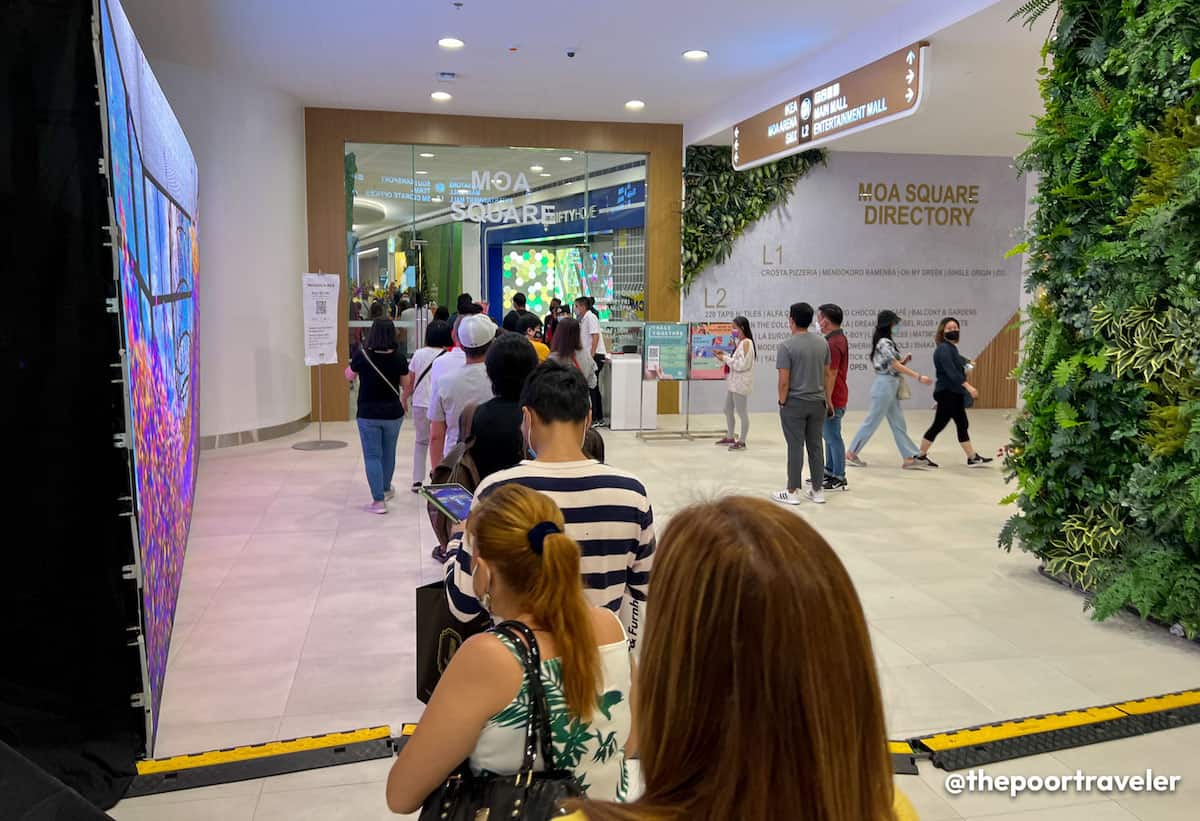 The queue to the counter may be a different story, though, since it takes longer to check out especially if you have a lot of items on your cart. As for us, since we only had fewer than 10 items on our frakta bag, we queued up to the Express Counters. We spent only 35 minutes on the line.
Note that we visited on OPENING DAY (Thursday), so the queues are naturally long. This may change in the coming days / weeks.
But kudos to IKEA for the appointment system. I can only imagine how much more crowded this would have been if it was completely open to walk-ins.
---
Are children allowed at IKEA Philippines?
YES, according to their official website. We also saw numerous shoppers with kids.
However, for the restaurant, unvaccinated kids are only allowed when accompanied by fully-vaccinated adults.
---
When did IKEA Philippines open?
IKEA's first store in the Philippines opened to the public on 25 November 2021.
Its launch has been anticipated since its construction was first announced. Initially, it was scheduled to be completed in 2020, but there had been delays due to the pandemic.
IKEA's online store was first to be launched in early November 2021, but the opening of the physical store finally happened on November 25th.
---
Additional words by Mariah Cruz
[embedded content]