– Advertisement –
<!– –>
<!– –>
ISL Season 8: Hyderabad FC will be taking on Bengaluru FC in their next match in the Indian Super League and the Nizams will be eager to get back to winning ways after losing their last match to ATK Mohun Bagan. Although they are still at the summit in the points table, Manolo Marquez's men will have to keep winning games to clinch the ISL Shield as teams from behind are also in close proximity. Follow all the ISL 2021-22 LIVE Updates only on InsideSport.IN
Thoughts from the last match
The Spanish tactician was not happy with Hyderabad FC's performance in the first half against ATK Mohun Bagan, a game that they lost. Speaking about the things that went wrong Marquez highlighted how the Nizams did not pass the ball and lost possession in dangerous areas.
"We didn't play in the first half (against ATK Mohun Bagan), I was very angry because we lost easy balls, even without pressure. We passed the ball to the opponents close to our box, and the team started to play after conceding the second goal. It's true that we started well in the second half with a very clear chance from Rohit Danu that touched the crossbar, but after (conceding) two goals, I think that we played very, very well," he said at the press conference.
#BFCHFC on our minds 👊#ThisIsOurGame #మనహైదరాబాద్ #HyderabadFC pic.twitter.com/kfl4J8aSR3

— Hyderabad FC (@HydFCOfficial) February 10, 2022
The Spaniard added how his men were nervous in the final minutes and could not convert any of the chances that came their way in the final five minutes. "During that 20-25 minutes, we had a lot of clear chances, four-five, very clear chances, but in the last five minutes, plus injury time, we were nervous. We did not attack well at the last moment and they had very clear chances to finish the game," added the Hyderabad FC head coach.
Thoughts on Bengaluru FC
Bengaluru FC are in pristine form as they are unbeaten in the last nine matches this season and are coming to this game on the back of a comprehensive 3-1 win. Manolo Marquez lauded the Blues head coach Marco Pezzaiouli as he simply turned the season around for the team after a slow start to the campaign. He feels it will be a very fierce battle.
"I think that will be a difficult game for us, but it will be a difficult game for them too," Marquez opined. "Another thing that I want to say is that I am happy for Marco (Pezzaiuoli), for the coach, because as a coach, sometimes you receive a lot of criticism. And, now I want to look where are these people who criticised him? It was very easy to criticise when things are bad, and now they are silent."
BFC vs HFC: Bengaluru FC aim to continue winning run, Hyderabad FC wants to bounce back to winning ways in a top four clash
Up for a difficult game
He also points out the quality that is present in the ranks for Pezzaiouli. The Blues have had 11 goalscorers this season and therefore the Hyderabad FC defenders simply cannot lose concentration through the entire match. "I think Bengaluru, they have good players. They have a clear style that they play, they are very strong in some aspects and they have very good players in all the lines. And I think that will be very difficult for us. But I think that if we are in our best performance, it will be a very difficult one for them too," Marquez added.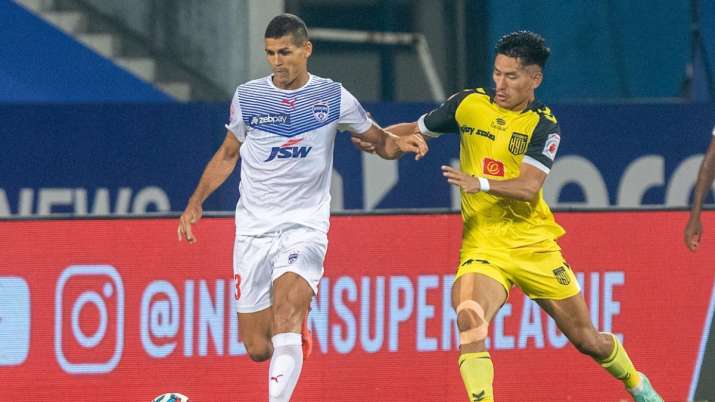 Right down the wire
Lastly when asked about the points he thinks will be needed to seal the ISL Shield, Marquez pointed out how he is not thinking about anything else other than the match at hand against Bengaluru FC. He feels a win will put them in a great position but even a loss would not mean it's all over. He does not pay much heed to all of this as he feels it will go down the wire.
"It is again the same thing. We cannot think about how many points we need. We have to play against a BFC and see what happens. If we win, we will see things in a different way.
And if we lose, we have to continue because till the last round, nothing will be decided. I think that we have to fight and we have to be focused in every game because all of them are very difficult. But for the other teams, it's exactly the same," He signed off.
– Advertisement –