What do you do when you have a ten year old television that still works perfectly, and has absolutely zero resale value? Simple – you stare wistfully at that 32-inch full-HD screen, and try and remember a time when that felt really huge and high res. And wish that someone could just come secretly and short-circuit the television so you could get a reason for buying a new one. That's what I've been doing for the last one year anyway.
Televisions haven't really changed much over the years – 3D came and pretty much went without changing things, and although televisions got bigger, the price for even a 55-inch TV was pretty prohibitive. Smart TVs have also become more and more common over time, and once again, it's a feature that might be nice to have, but didn't necessarily feel enough of a reason by itself to upgrade my television over.
I bought my TV in 2007, and the choice then boiled down to a 32-inch LCD or Plasma TV. LEDs were available at the time, but were significantly more expensive. Over the years LEDs became pretty much the standard, but I had already bought a full-HD TV, so there was little reason to switch without moving up a few screen sizes, and this was still too expensive.
But since then, things have slowly but surely changed. Manufacturers like Vu and Kodak started to bring 55-inch televisions down to affordable prices, with 4K resolutions. These were still pretty boxy, and the build quality in general often left things to be desired, but with aggressively competitive pricing, started to offer up a real alternative to the high priced offerings from brands like LG and Samsung.
The latest entrant to this space in India is Xiaomi, whose Mi TV 4 is a 55-inch 4K HDR 10 television that also looks very premium, and comes with smart TV features that allow you to control your TV set top box, and search for content on live TV.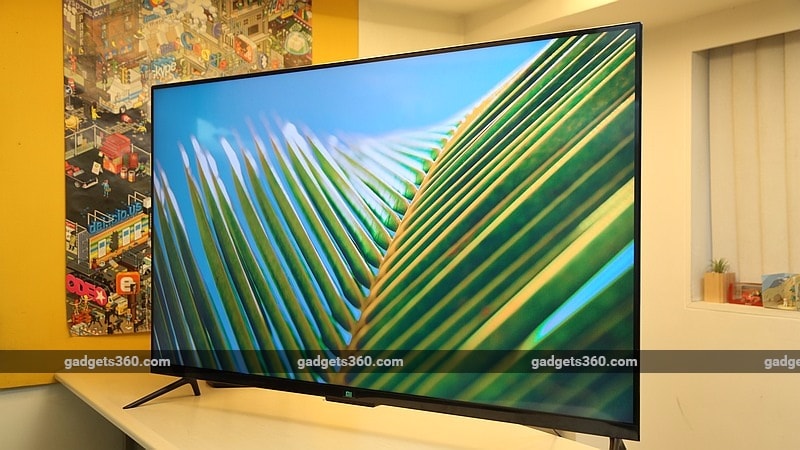 That's a pretty solid feature set, and when compared to my 10-year-old 32-inch plasma TV, it doesn't even seem to be in the same category of products even though in 2005, the Panasonic cost around the same as the Mi TV 4 does today.
The catch is that the Panasonic is still a really good TV. Although plasma TVs can have problems with image burn, that never happened with this unit despite its long tenure, and although it takes a long time to switch on or off compared to modern TVs, the image quality was never in question. The contrast levels are great, and the refresh rate is also high enough that it's been great for watching TV and gaming both.
So does that mean I shouldn't buy a new TV? Obviously this is something everyone has to decide for themselves, but it does raise the question of when it's okay to update your gadgets even if you don't need to. A bigger TV isn't going to be a significantly better TV, and it represents a spend of around Rs. 40,000, so each of us has to consider whether that represents a value buy.
But beyond that, at what point in a gadget's life can you say that you've gotten enough value out of it, and it's time to upgrade with no qualms? Upgrading every year, like we do with phones, would obviously delight manufacturers, but televisions themselves haven't gone through the same kind of rapid change, and so it's not a reasonable notion.
For me, although I've gotten amazing value from the TV so far, it's still hard to justify an upgrade. For others, it'll be a much easier decision. In either case though, it does point to something interesting – how devices fall into two categories, let's call them appliances and gadgets. An appliance, like a fridge or a microwave, will stay in your home for a decade or more, but gadgets like laptops, phones, Bluetooth speakers, and so on, get upgraded far more regularly.
They're constantly evolving and getting new features that are significant enough an upgrade that within an year or three (depending on the category), you're due for a change, even though the prices of these products is oftentimes higher than that of the appliances that you stick with for much longer. For me, TVs still fall in the appliance category, even though I really want to replace mine.
Gaming in particular is one reason why a bigger TV is so appealing to me today. The baseline expectation for a television in the Xbox 360 era – which was when this television was purchased – was probably somewhere between 27-inches and 32-inches. Games from that console generation looked great on this television, especially when compared to the 29-inch CRT that I was using before this.
Then sometime around 2015, I moved on to the next console generation, and that's when it became clear that my TV had been left behind. Game developers clearly expect users to have bigger televisions than this one, because most text in games is now tiny and hard to read on my TV.
But that's not all. Thanks to the Xbox One X and the PS4 Pro, there's also the fact that game consoles now support features like 4K and HDR. However, even on non-4K TVs, there's a feature called supersampling which essentially renders the image at a higher resolution before sending it to the screen, that brings some improvements to image quality. And while HDR is cool, it's not really being used much, so do these by themselves make for a good reason to upgrade?
Not really, and that's the problem. There's nothing wrong with my TV, and when it's used for watching TV or movies, it works great. The only use case that really suffers today is gaming.
If your fridge is working perfectly, but doesn't have one cool feature like a water dispenser, or your washing machine has a 6kg load limit while you feel 8kg is perfect, would you be willing to junk it and buy a new one for the same price? Probably not. So why do the same for a television?
Catch the latest from the Consumer Electronics Show on Gadgets 360, at our CES 2022 hub.