Between Ola, Uber, and all the other on-demand taxi services that are now operating in India, there's no shortage of controversies to be found. Ever since a rape in December 2014, there have been a series of incidents where passengers have been molested, and even multiple instances recently where passengers realised that their drivers were masturbating while driving. There's no shortage of horrible incidents to be talked about, regardless of which service you're talking about.
The problem is that when something goes wrong – as it inevitably will in any system – these companies wash their hands off any problem, stating they've worked to ensure that drivers are properly verified or talk about the safety measures they've added to the app.
The firms call themselves technology companies, and strongly avoid being called taxi operators. The reason for this is simple – taxi companies have to comply with a large number of regulations, while a technology company has no such liabilities. And this doesn't even take into account the fact that the Ola taxi you climbed into in the morning could well be the Uber you take in the evening.
When an incident occurs, we're quick to blame the company which was used to hail the cab, but when the same car and the same driver could be plying for a different service each time they're on a journey, perhaps the better question is to start to ask for regulation of this sector as a whole.
Last week, the Delhi High Court asked Ola how it is operating in Delhi; we can be sure that the legal back and forth will continue for a while, but in the meantime these companies are continuing to operate, claiming they fall in a grey area. Ola's statement on the matter shows just this – it's a non-statement at best – as the company says: "We respect the law of the land and the guidelines of the judiciary at all times. We are committed to building mobility for citizens and in creating a favourable ecosystem for driver-entrepreneurs through sustainable livelihood opportunities, within the legal framework. We will continue to work with the authorities to fulfil our commitment to the ecosystem."
(Also see: Uber Is Not a Technology Company)
The Indian Foundation of Transport Research and Training (IFTRT) has been stating that all type of taxi service companies, whether domestic or overseas, must be regulated to have accountability for providing safe and smooth travel to customers. The IFTRT noted that the Delhi Motor Vehicle Rules, 1993 under section-93 of Central Motor Vehicles Act 1988, mandates licensing of all type of travel agents working as intermediaries, which should apply to taxi aggregators as well.
That is why, instead of looking at this in a company-by-company basis, we have to look at the sector as a whole because the cabs themselves could be on three different services over the course of the day. Given the number of people who are riding in these cars every day, we need to start thinking about how these companies work. For example, Ola claims it books over 750,000 rides every day, with a fleet of over 250,000 vehicles, covering over 100 cities in India. Uber is set to invest $1 billion (roughly Rs. 6,404 crores) in India, and has major expansion plans for the country.
In other words, they're all in a tearing rush to sign up drivers. But Ola and Uber either don't, or can't, enforce exclusivity. While neither service responded to emailed questions on the subject of exclusivity, in an earlier conversation with NDTV Gadgets, Uber's Head of Expansion for India, Neeraj Singhal stated that the company does not require exclusivity. "We want to provide the best service and the best opportunities for the drivers, so if they want to work with a competitor, that's a gap, we will fill," Singhal told NDTV Gadgets.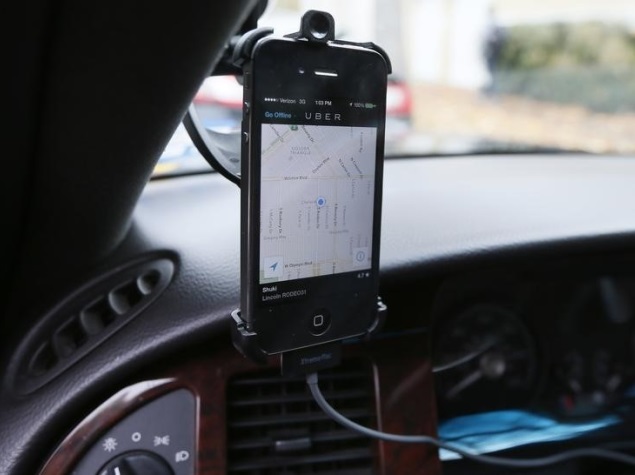 Meru says that 30 percent of its fleet is exclusive, while 70 percent is under aggregators. It added that the drivers are put through an intensive training program on customer service, hygiene, safe driving habits and how to handle an emergency. Mega didn't respond to an email either, but what this means is that drivers can, and do, frequently switch between the services to maximise their earnings.
We've all taken rides with an Uber, and found the Ola logo on the side of his car. We've all called an Ola, and seen the second phone lying on the charger, Uber's familiar display on the screen. What this means is that the problems you face aren't going to be related to just one provider – if there are security issues with Uber (and there are) then the same issues apply to Ola, and TaxiForSure as well. The entire system needs to be regulated and we already have the laws in place for this, as the IFTRT points out.
One driver we met talked about how he starts his day with Uber, until he completes ten trips. The moment this happens, he switches to Ola, and tries to get five trips at least. Another driver told NDTV Gadgets, "I use Ola, Uber, Taxi4Sure, all my friends do too. It's great because now you don't have to wait for a taxi, and we also find customers." Neither driver wanted to be named, but over several more rides, with more drivers it becomes clear that this is a common occurrence.
We've come across a fair number of social media users swearing off Uber forever. We've similarly seen people promising that they'll never use Ola again. Most of these cases are just hyperbole, but there are certainly people out there who are sincere about these statements. But when you're swearing off Uber, or saying that you're never going to use Ola again, as long as you're riding in one of the taxi services, you're very probably riding in the very same car, with the very same driver. So let's not call for an Uber ban, or an Ola ban. Let's call for an overhaul that is able to properly regulate these services, instead of letting them argue that there's a difference between a taxi fleet and an aggregator.